"I have made several batches of runny jelly, I need specific instructions, finally I did it and I am entering it before I forget it. Jelly without pectin is so much better in flavor, I know the pectin has no flavor, but it never taste like Grandmas. (Use 3/4-1 cup sugar per 1 cup of berry juice. Use 3/4 cup of water per 4 cups of berries. )"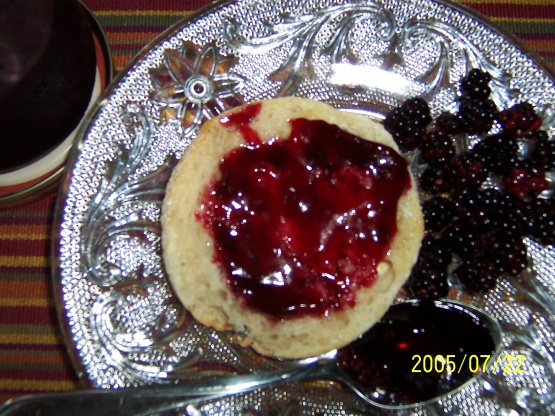 Blackberry Jelly Like Grandma Made
1 recipe photo
Directions
Rinse berries and place in large kettle with water.
Bring to a boil and simmer for 5 minutes.
Drain berries and put threw cheesecloth to remove all seeds.
Add back to kettle with sugar.
Boil to 220 degrees (-2 degrees for each 1000 feet above sea level)- I just used 220 in Ohio.?.
I have noticed I need to boil at the 220 mark for awhile for a nice gel, so make sure you not only hit the 220 mark but go for 221, to be on the safe side.
Put in sterilized jars.