"I'm so proud of these cute little creations because I made up the recipe myself. You can prepare the ingredients ahead of time but should assemble up to a couple of hours before serving to prevent the lettuce from getting wilted. As I made up the spread I wrote the ingredients down. As for the rest I just bought the items that I needed and threw them together, so you will probably have extras of the bread and topping ingredients. Or, just make up some more of the sauce and make more BLTeenies. The sauce as I've written it here makes is enough for about 15 appetizers. I'm not used to writing my own recipes so bear with my directions! I tried to be clear but it was much harder to type this out than it was just to actually do it!"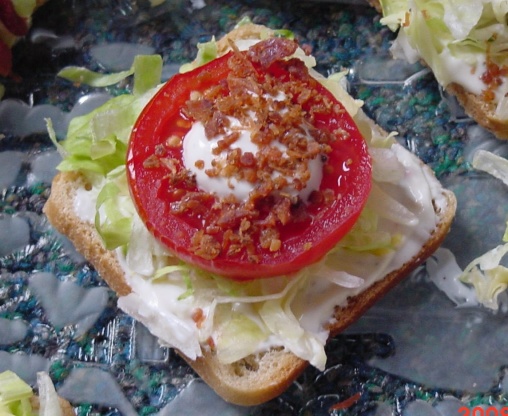 Spread

1⁄3 cup mayonnaise (no substitutes)
1⁄2 cup sour cream

1

teaspoon Italian salad dressing mix (the powdered stuff)

Bread and Toppings

15

slices cocktail bread (I like sourdough)

3

cups shredded lettuce

3

small tomatoes, sliced (you want them to be slightly smaller than the bread)

3

ounces bacon bits (I like hormel because they seem to be darker in color and shredded finer. Oscar mayer doesnt look as)
Directions
Mix together the mayo, sour cream, and dressing mix. This is going to "glue" all of the layers of the sandwich together.
Make an open-faced mini sandwich with the rest of the ingredients: First spread the bread with mayonnaise mixture to the edges (be generous-I use just less than a tablespoon.).
Add some shredded lettuce, covering the spread.
Put a small dollop of the mayo mixture in the center of the lettuce, then add a slice of tomato.
Add a chocolate-chip sized amount of the mayo mixture, followed by a nice sprinkling of the bacon.
Voila, you're done. Put on a pretty platter and serve.