"This recipe is changed from Certo Pectin Crystals. Directions assume you know about canning. Times are estimates."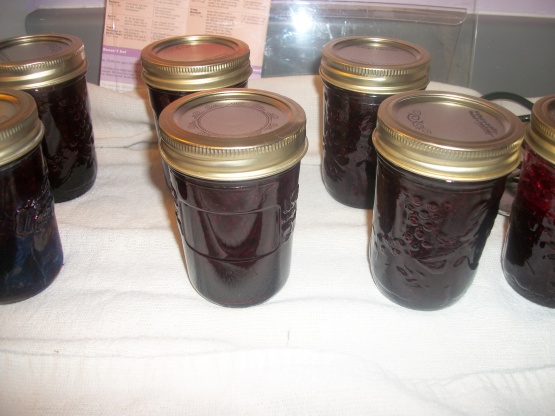 Blueberry/Cherry Jam
1 recipe photo
Directions
Measure fruit whole, I used my processor and pulsed until finely chopped, measure 4 cups of finely chopped fruit.
In large saucepan stir together prepared fruit, lemon juice and Certo Pectin Crystals.
Bring to a boil over high heat.
Add all sugar.
Return to a hard boil for 1 minute.
Remove from heat. Stir and skim for 5 minutes, to prevent floating fruit. Pout into hot sterilized jars to 1/4 inch from rim, Cover with lids and screw rings on tightly.
Process in a boiling water bath for 10 minutes (adjust processing time for about sea level).
Note: I ended up with about 6 3/4 half pint jars of jam. I always so up an extra jar and a couple extra lids when preparing them.
Cooked jams may be stored on shelf unopened for up to 1 year.
It's important to use sterilized jars, lids and utensils when preparing cooked jams.
Jars can be sterilized in the oven at 225F for 10 minutes and should be kept warm until filling time.
Lids should be placed in boiled water and kept warm until ready to use.