"Savory and sweet with just a little heat, this jelly is prefect on just about anything. The recipe can be found here: http://lobsterandfishsticks.com/2009/06/12/blueberry-jalapeno-jelly/ I made two huge batches over the summer and gave it away for Christmas - it was a huge hit with everyone!"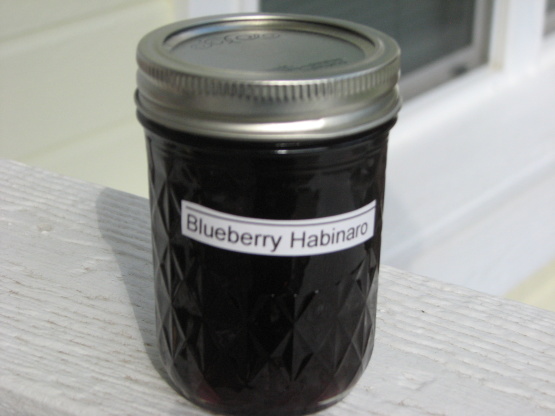 Blueberry Jalapeno Jelly
3 recipe photos
5

cups blueberries
1⁄2 cup lemon juice, divided into two 1/4 c. portions
1 1⁄2 cups water

1

cup jalapeno pepper, seeded and chopped fine

2

tablespoons bell peppers, chopped fine
1⁄2 cup vinegar

5

cups sugar, you can use 1/2 sugar and 1/2 Splenda also, but not just Splenda

1

(4 ounce) box pectin, low sugar formula
Directions
In one saucepan, combine the peppers, vinegar, 1/4 cup lemon juice and 1 cup water. Cook on medium high for 20 minutes, then using a sieve, remove all the peppers from the liquid and set aside.
In another saucepan, place blueberries, 1/4 cup lemon juice and 1/2 cup water and cook on medium high for 20 minutes, Strain with a cheesecloth or jelly bag.
Combine both liquids into one of the pans, adding sugar/Splenda. Cook on medium low until the sugar dissolved. Skim any foam off of the surface.
Bring mix to a boil and add 1 box pectin and bring to a rolling boil for one minute.
Remove from heat, skim off any foam and ladle into sterilized jelly jars and place lids tightly on the jars.
Boil in a hot water bath (with 1-2 inches of water over the lids) for 5 minutes.
Set on counter to cool and to set. Listen for the lids to pop. They could pop anywhere from 2 minutes to 2 hours afterward.
If they do not pop, they are not sealed and will need to be refrigerated and used immediately.