"Adapted from Eat What You Love and Lose, published in Family Circle magazine, this is yummy! I have made it even healthier! New England, South, Mid Atlantic, Canada"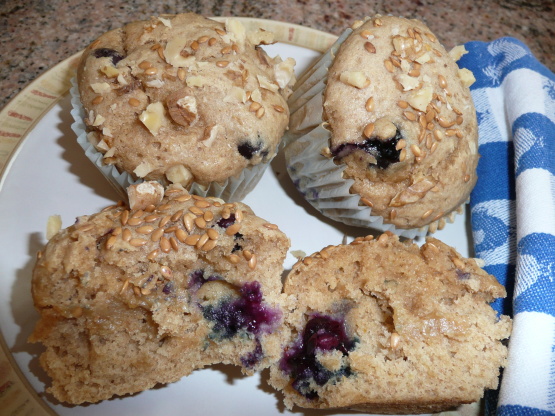 Blueberry-Peach Muffins
1 recipe photo
Directions
Heat your oven to 350°F Coat a 12 cup muffin pan with nonstick cooking spray. On waxed paper, sift together the flour, sugar, baking soda and salt.
In a large bowl, whisk together the yogurt, 1/4 cup water, egg, egg whites and melted butter. Stir the flour mix into the yogurt mix just until moistened. Gently fold in the blueberries.
Divide the batter evenly among the prepared muffin cups, about a heaping 1/4 cup batter for each cup. Sprinkle the crushed granola over all the muffin tops(dividing evenly).
Bake muffins at 350°F for 20 minutes or until golden around the edges. Let the muffins cool in the pan on a wire rack for 5 minutes. Transfer muffins directly to rack; serve warm, if desired. Enjoy!