"I found this recipe in Cake Mix Cookies by Camilla Saulsbury. My blueberries are just arriving and I had picked 2 cups and wanted something quick and easy. When I took these to work everyone wanted the recipe. I think they taste better after chilling overnight."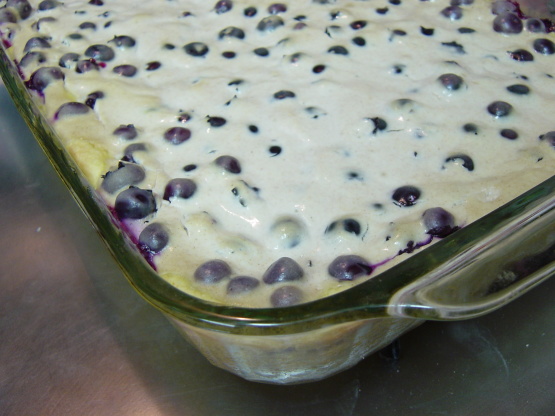 Blueberry Sour Cream Kuchen Bars
4 recipe photos
Directions
Preheat oven to 350°F
Set aside an ungreased 13 x 9 inch baking pan.
In a large bowl place the cake mix, softened butter, cream cheese and 1 of the eggs.
Blend with electric mixer 1 to 2 minutes on low speed until a dough forms.
Gather into a ball and press into ungreased pan.
Bake crust 10 to 12 minutes until light golden.
In a medium bowl whisk the sour cream with the sugar, cinnamon and remaining egg until smooth and blended; mix in the blueberries.
Spread mixture over partially baked crust.
Bake for 13 to 15 minutes until sour cream layer is just set.
Cool completely.
Cut into bars.
Store in refrigerator.