"Finally, something different to do with that thyme you've got growing in your garden. This offers an "herbal" spin on the traditional blueberry coffee cake recipe."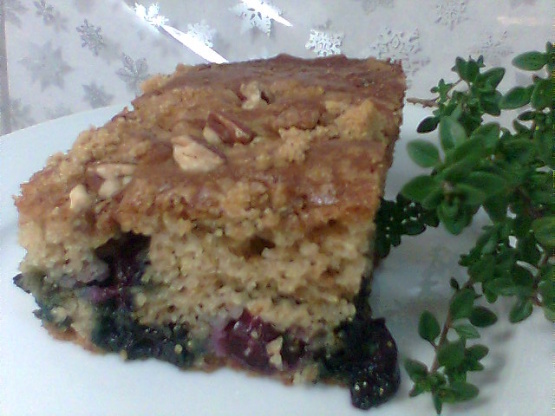 Blueberry Thyme Coffee Cake
1 recipe photo
Directions
Preheat oven to 350 degrees.
Butter or grease & flour a 9" x 13" pan.
In a large bowl, mix whole wheat flour, all-purpose flour, baking powder, baking soda, and a pinch of salt together.
Mix in Sugar.
In another bowl, mix together the butter, 3 eggs and sour cream.
Mix in the blueberries and thyme.
Gently fold the two batters together.
Spread coffee cake batter into pan.
Top with chopped walnuts and sprinkle with a little brown sugar.
Bake at 350 degrees for 40-45 minutes.
Serve at room temperature and enjoy!