"We probably all did a version of this when we were younger - heated up old crayons to make new (the same way many of our mothers saved up the bits of old soap to make new!). All you need for this 'recipe' is all your old bits of crayon, a baking tray & a selection of small metal cookie cutters. I like the petit four / 1" size in particular. Basic flower shapes, hearts, butterflies, gingerbread men, cars, animals, stars etc are all great. This is great fun to do - good for a kids party or to sell at a school fair."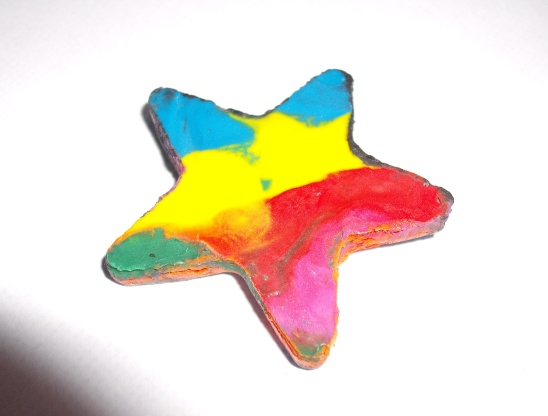 " Born Again Crayons " - Kids Fun Crafts
4 recipe photos
1⁄2

cup wax crayons (all your broken pieces with paper removed)

cookie cutter
Directions
Place all your crayons bits on a small baking tray & place in a warm oven until melted. I actually use a 6'' metal pie dish lined with aluminum foil & pop it in the oven when I've just finished baking a cake.
Remove from the oven - be careful not to jiggle the tray / tin or the colours in the wax will mix too much - & allow to cool slightly. The wax has to be solid enough to hold it's shape once cut but not totally hard or it becomes brittle when being cut, this is usually about 5 minutes after being removed from the oven. You might find that the bottom of the wax is still a little runny - if so leave the wax a couple more minutes.
Whilst still slightly warm, use metal or plastic cutters of your choice to cut out shapes - remove the cutter, but don't try to force the crayon shapes out of the cutters if they don't want to come out. Allow the wax to harden fully then press the cutters down over the wax again & remove your new crayons.
Any leftover bits can be stored until you've collected enough for another go!
get the genius kitchen app.
Watch on your iPhone, iPad, Apple TV, Roku, or Fire TV.
Learn More