"Brother Bo's (in) famous olive sandwiches. I would NEVER eat these when I was a child. What little girl would eat something called bug sandwiches? In my old age I've since come to love and appreciate these sandwiches. Bo says for a nice presentation, cut off the bread crusts. Traditionally served with a glass of previously-frozen milk. Psst-I have a little secret. Don't tell Bo, but sometimes I sneak a few thin slices of red onion in my sandwich."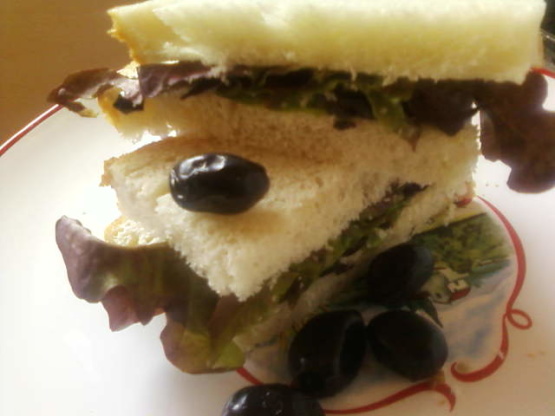 Bo's Bug Sandwiches
1 recipe photo
Directions
In small bowl combine the black olives and mayo.
Bo says to add mayonnaise to desired consistency, either a dry mixture or creamier; your choice.
Spread equal amounts of the olive mixture onto the bread slices. Add lettuce leaves if desired. Season with black pepper.
Cut sandwiches in half.
Ideal for picnics, a quick snack and to annoy your little baby sister.