"A half-dozen cupcake recipe full of the flavor a Boston Cream pie but in a to-go version. These little cakes mix up easily and filling them just requires a small decorator tip and a plastic bag. Top it with a simple ganache topping and you have a perfect gem of a dessert for a small gathering! I hope you enjoy them as much as we do!"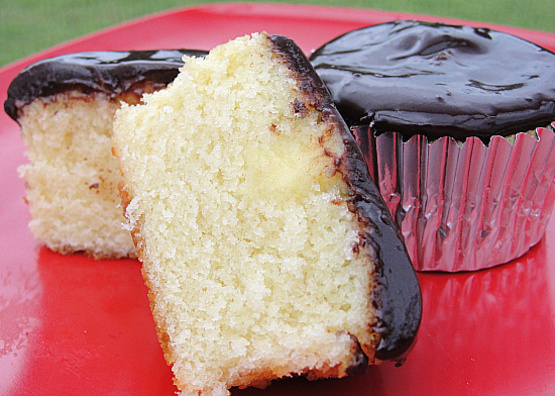 Boston Cream to Go Cupcakes
2 recipe photos
Directions
In a small bowl, cream together butter and sugar until light and fluffy then add egg and beat well.
Stir in vanilla.
Combine the flour, baking powder and salt; add to the creamed mixture alternately with the milk, beating well after each addition.
Fill paper lined muffin cups half full.
Bake at 350F for 15-20 minutes or until a toothpick comes out clean. (If using a dark coated pan reduce oven temperature to 325F).
Cool for 10-15 minutes before removing from muffin pan to a wire rack to cool completely.
Prepare your vanilla pudding (your favorite method/recipe) and chill till proper consistency of pudding.
Cut a small hole in the corner of a pastry or plastic bag and insert a very small tip into the corner (from the inside of the bag to hold the tip).
Fill bag with prepared pudding.
Push the tip through the top of the cupcake about halfway down and fill each cupcake with pudding.
Place the chocolate chips in a small bowl.
In a small saucepan, bring whipping cream just to a boil (do not scorch) then pour over the chocolate chips and whisk until smooth.
Cool, stirring occasionally to room temperature or until ganache thickens slightly (about 10 minutes).
Spoon over cupcakes and let stand until set.
Store in an airtight container in the refrigerator.