"Yeah, that's not a misprint. This is a great, crunchy bacon dish with the flavor of bourbon and pralines. This is great as a brunch dish, or it can even be used as a garnish on a special dessert."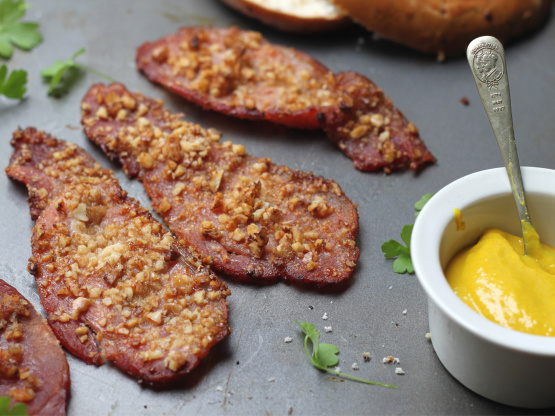 Bourbon-Praline Bacon
4 recipe photos
Directions
In a 13 X 9 pan, mix the bourbon, vanilla and 1 T brown sugar. Add bacon slices, coating them in the liquid. Let them soak for 15 minutes (or up to 1 hour).
Meanwhile, pre-heat the oven to 400 degrees place an oven rack in the middle. Lightly grease a baking rack and place it on a foil-covered baking sheet.
Grind the pecans in a food processor or spice grinder. On a large plate or baking sheet, thoroughly mix the ground pecans with the cayenne pepper, cinnamon, and the remaining 1/4 C brown sugar (fingers work best).
One at a time, shake the excess liquid off the bacon slices, and lay them in the pecan mixture, pressing lightly with your fingertips to make the topping adhere. Flip the bacon and repeat on the other side. (In the middle of this process the topping may begin to cake up. Re-mix it with a fork if necessary). Lay each slice on the rack.
Bake on the middle rack for 20 minutes. Let cool slightly before removing from the rack. Serve warm or cooled -- and enjoy.