"My husband and I used to boil brats in beer in the house before grilling, but have discovered that this method keeps them juicier and keeps the house from smelling like a brewery! Living in Wisconsin, we make these often during the summer and also a few times during the winter, when it's much less convenient to grill! We've been making all our brats this way for the past two or three years. We normally buy the large three pound packages of Johnsonville brats early in the summer and stock the freezer when the price is right, but this will certainly work for any other brat as well! Our children, ages 4 and 5, prefer these to hot dogs hands-down, and will sometimes each devour two of them in one meal! We like to serve these with corn on the cob, foil potato packets, grilled zucchini, or any other vegetable we can grill while the brats simmer! This is listed as 12 servings because there are 12 brats, but most people enjoy at least two brats!"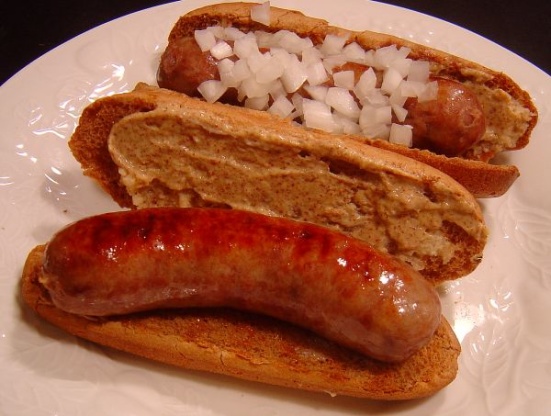 Brats--Our Style
2 recipe photos
READY IN:

1hr 10mins

SERVES:

12

UNITS:

US
3

lbs bratwursts, raw, not precooked (the Johnsonville packs contain 12 brats)

3

(12 ounce) bottles beer (We use bud light, but feel free to adjust to whatever you have in the fridge(even old beer works!)

1

onion, sliced and separated into rings (1 large)

1 -2

tablespoon minced garlic (We usually used the preminced garlic in a jar)

12

buns (could be anything from inexpensive hot dog buns to bakery brat buns (the wheat ones are delicious!)

Toppings of your choice

ketchup (hot or cold) or mustard (hot or cold) or sauerkraut (hot or cold)
Directions
Grill the brats on your BBQ grill over medium heat, turning occasionally and monitoring carefully so that you don't split the skins. We like ours a little on the darker side, but grill to your own preference. This typically takes us about 15 minutes.
Pour two of the bottles of beer into a 9 x 13 cake pan, and place on the grill (We use an old one that we're not worried about staining or anything, but the disposable foil ones would work as well if you don't want to ruin a good pan).
Add onions, garlic, and brats to the cake pan.
Add as much of the third bottle of beer as possible, leaving a little room at the top so it won't boil over.
Simmer on the grill while cooking the veggies or anything else for your meal on the other side of the grill. Start out at medium heat, and adjust down as necessary to avoid cooking too hard and splitting the brats open. They should just simmer lightly for 30-45 minutes for great flavor. Add additional beer as necessary. We usually boil until the beer is almost gone, but do not allow to boil completely dry!
Remove the brats from liquid to serve as needed, allowing remaining brats to 'hang out' and stay hot in the liquid until needed. Serve on buns with desired toppings and garnishes. My favorite is with ketchup and mustard and cold sauerkraut, but my husband likes pickles or relish on his, and the kids are content with just ketchup, sometimes with a bun, sometimes without.
Leftover brats reheat well if you do so slowly in the microwave. 100% power will blow them up, so procede with caution and use appropriate settings for your microwave.
Enjoy!