"The staff here at CGTD Institute found the inspiration for this recipe from Lewis Carroll's 'Alice in Wonderland' story. A fun yet simple cooking project designed for the wee tots."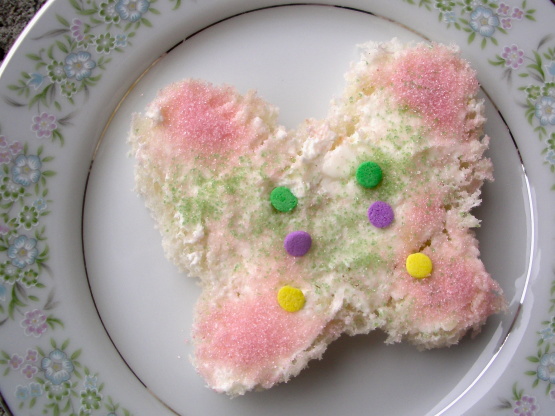 Bread and Butterfly (A Tasty Treat)
3 recipe photos
1

slice bread (white, wheat, etc. I used crumpet bread.)

whipped butter, for spreading
dyed sugar, your choice of colors (I used natural food dyes)

Garnish

candy sprinkles, for garnish or non-pareils

grated coconut

mini chocolate chip
Directions
Note: if you wish, you can dye the butter. Also, for special effects, feel free to garnish sprinkles, non pareils or other choices like shredded coconut on the butterfly. Substitutions for butter would include: frosting, cream cheese, peanut butter or other nut/seed butter, etc. Also, if you wish, you can flavor the butter or substitute with extract of your choice: almond, vanilla, coconut, etc.
First decide if you want your bread untoasted or toasted.
Use a butterfly shaped cookie cutter to cut the bread. If toasting the bread, cut out the bread first.
Place the dyed sugar on a plate.
Spread a generous amount of butter on the toast then press the bread onto the dyed sugar OR, it may be easier (especially for very young children), for them to sprinkle the sugar on top of the bread instead.
~TD~ tested-Mother approved!