"Every child and adult in Denmark have fond memories of sitting around the bonfire on June 23rd when we celebrate Midsummer Sankt Hans. Most often we will make 'snobroed' which basically means 'wound bread'. You find sticks (great task for kids) long enough that you can sit at a safe distance and bake the bread over the fire. The bread dough is wound around the stick and will bake in approx 15 min. The key and often competition is who can bake the best bread without it getting burn marks. Hint - the coal and not the flames works best. It takes patience, but is so much fun and the banter will be flying. I have arranged this for friends and our kids during camping trips and it is now a MUST tradition and a great fuss free way of cooking dinner/snacks. See the recipe below for addtional tips on how to cook with hot dogs, ham etc. If camping you can make the dough ahead of time and place in a big zip lock bag, break the dough off directly in the bag and with floured hands roll out and onto the sticks."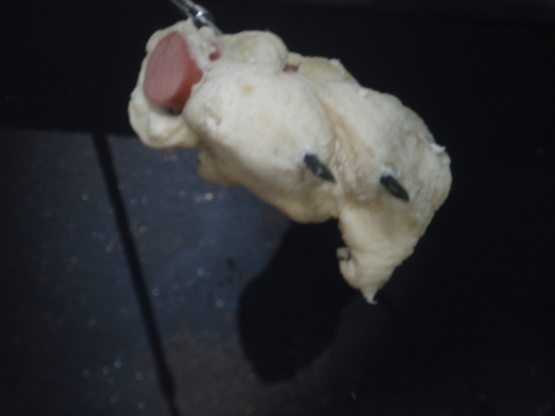 Bread Baked over the Bonfire (Danish 'snobroed')
2 recipe photos
Directions
In a big mixing bowl mix water and yeast. Let stand for 5 minute Stir until yeast is disolved.
Add salt.
Add flour a bit at a time. When dough becomes to heavy to stir, move to table and knead dough as long as you like. The consistency of the dough should not be sticky and should not be too dry. Once you can 'play ball' from hand to hand with the dough it should be fine. I make this also in a Kitchen Aid mixer which works well.
Let rise for 30 min in warm place, cover with tea towel.
Divide dough in 8 equal balls. Roll the balls into a long string, approx 15 inches long. Starting at top of stick wind the dough around the stick, making sure that the dough is connected and no bare spots show.
Optional - first place hot dogs on stick and wrap the dough around hotdog from top to bottom making sure to fully cover hotdog. Same can be done with slice of ham.
Cook over fire for approx 15 min or until bread has risen, is golden and sound hollow when you knock on it. Also, once it slides off easily it is usually done.
You can now add ketchup, cheese, mustard down the middle hole.