"I've tried many, many bread recipes, and this is the best roll recipe I've come across. It's super fast, super easy, and you'd have to try hard to mess it up. The easiest way to get the perfect temperature water for your yeast is to do 1 part boiling water to 2 parts cold. Perfect every time!"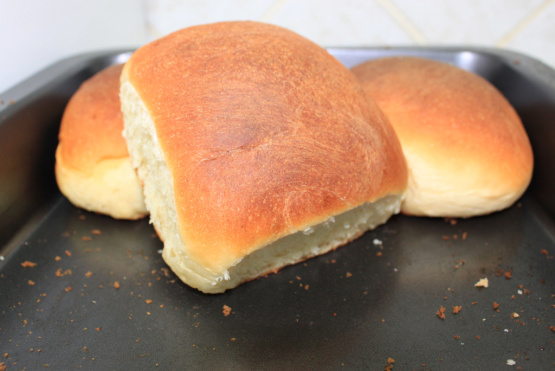 Bread Rolls
3 recipe photos
Directions
In a small bowl, mix milk with water. Add sugar, yeast, and butter. Stir until yeast is dissolved and set aside for 10 minutes or until yeast has foamed up a bit.
In a large bowl, mix flour and salt. Use the lower amount of flour to start with and add more only if the dough is really too sticky.
Add yeast mixture to flour and mix.
Knead until smooth and elastic. (I use a hand mixer with a kneading attachment.).
Place in greased bowl, cover tightly with plastic wrap, and let rise in a warm place for 15 minutes.
Oil your hands and shape the dough into rolls and place in a well-greased pan. I use 2 round non-stick cake pans.
Cover loosely with plastic wrap and let rise another 15 minutes.
Bake at 400 for about 10 minutes or until golden brown.
Let these cool down before you remove them from the pan or they will likely tear.