"This is a Pillsbury Bake-off recipe that my family really enjoys. Easy to put together with a nice blend of flavors."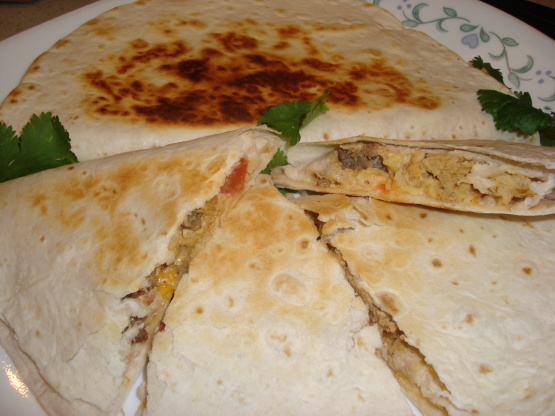 Breakfast Quesadillas
1 recipe photo
Directions
In a 12 inch skillet cook sausage until browned, no longer pink. Remove sausage from skillet; drain on paper towel. Wipe skillet clean, set aside.
In medium size bowl lightly beat eggs, sour cream, half and half, and taco seasoning mix with wire whisk until well blended.
In a 10 inch skillet melt butter over medium heat. Add egg mixture; cook 2-4 minutes, stirring frequently , until mixture is very moist. Stir in sausage, chives, cilantro, tomato and chilies. Cook 1-2 minutes longer until egg mixture is set but still moist. Remove from heat.
Place tortillas on work surface. Top half of each tortilla with 2-3 tablespoons egg mixture; sprinkle each with 1 tablespoons of each of the cheeses. Fold untopped half of tortilla over egg mixture.
Heat same 12 inch skillet over medium heat. Place 2 quesadillas in skillet; cook 30-45 seconds on each side until crisp and lightly browned. Remove from skillet; place on serving plate. Repeat with remaining quesadillas. With pizza cutter cut each quesadilla into wedges.
Serve quesadillas with fresh chives, taco sauce, sour cream and guacamole if desired.