"Ready, Set, Cook! Special Edition Contest Entry: I love haystacks and wanted to make a fun Tex-Mex version for my family. These turned out great! Adding Panko crumbs and cheese to the hash browns before cooking gave them a wonderful golden brown color and texture. Yum. The presentation was top notch but they disappeared to quickly for anyone to notice but me!"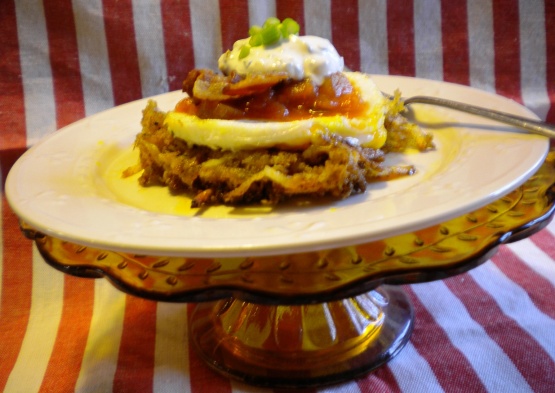 Breakfast Tex Mex Haystacks
1 recipe photo
Directions
Mix the hash browns, salt, 1 teaspoon cumin, chili powder,Panko and cheese in a bowl and stir with a spatula.
Heat the oil in a large 10-12 inch skillet over medium heat until hot. Divide the potato mixture into 4 servings and drop into the hot oil. Cook 3 minutes on 1 side and turn each stack and continue to cook until golden on both sides. When done remove from oil and place on dish . Cover with foil.
Heat the butter in a non-stick skillet over low heat. . Add the eggs one at a time and cook 2-3 minutes and flip. They should be over easy.
While they are cooking mix the sour cream in a small bowl with the cilantro,reserved cumin, tomatoes, and the whites of the scallions.
When the eggs are done prepare each stack. Plate 1 haystack on a small dish, top with an egg , 2 tablespoons salsa, a slice of bacon cut in half and crossed and a dollop of the sour cream garnished with the greens from the scallions. Yield: 4.