"This is such a simple combination of flavors. The broccoli is almost sweet against the saltiness of the pancetta and the rich, nutty flavor and texture of the pecans. I love to layer the nuts all throughout the dish to bring that welcome nutty crunch. It's the biggest textural contrast in the dish. This is a great side dish for any fish or meat or can also just stand-alone. If you want to make it vegetarian, simply omit the pancetta; the pecans will provide enough protein on their own!"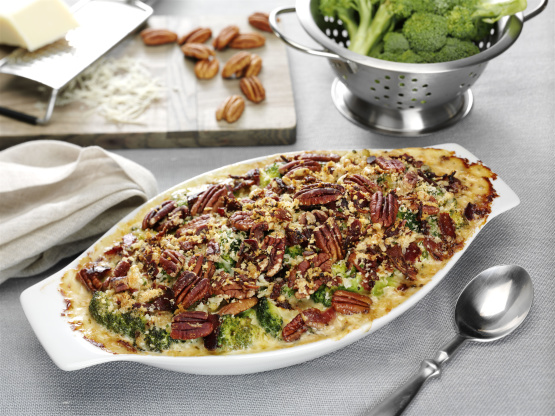 Broccoli With Pecan Pancetta Topping
1 recipe photo
Directions
Preheat the oven to 350°F.
Cook the broccoli: Bring 6 quarts water to a rolling boil in a large pot. Add the salt and bring the water back to a boil. Taste the water; it should taste like seawater. Add the broccoli and stir, with a wooden spoon or large slotted spoon. Cook until the broccoli is tender but still hold its shape, 5 minutes. Pour the broccoli and water into a colander placed over the sink. Arrange the broccoli on a baking sheet and refrigerate.
Cook the pancetta: Cook the pancetta slices over medium to low heat in a large skillet until they become crispy, 8-10 minutes. Remove the pancetta from the pan, leaving any cooking grease. Allow the pancetta to cool (and fully crisp). When cooled, crumble the pancetta slices.
Make the sauce: Add the butter and garlic to the skillet where the pancetta cooked and simmer gently over low heat until the garlic is translucent, 3-5 minutes. Stir in the cream and bring to a simmer. Stir in the Dijon mustard, 1 1/2 cups of the Gruyere and all of the cheddar cheese. Season with salt and pepper to taste. Cook over very low heat, stirring constantly with a wooden spoon, until the cheese melts and integrates with the cream. Add the Parmesan, Worcestershire and Tabasco. Stir and simmer again until smooth. Taste for seasoning.
Assemble and bake the broccoli: Add the broccoli to the cream in the sauté pan, stir to blend and let it "rest" on the stove, 5-10 minutes. Sprinkle a layer a little less than half of the pecans in the bottom of 13 x 9-inch pan or a gratin dish. Spoon the broccoli and cream over the nuts, sprinkling a few pecans as you build the gratin. Combine the remaining pecans with the breadcrumbs, the cooked pancetta, remaining 1/2 cup Gruyere and the chives. Top with the pecan "breadcrumbs". Bake in the oven until piping hot and the nuts on top are browned, 15-20 minutes. Serve immediately.
get the genius kitchen app.
Watch on your iPhone, iPad, Apple TV, Roku, or Fire TV.
Learn More