"So delicious! These go perfectly with a nice Steak and another fresh side veggie (I like yellow squash or Corn on the mini-cob). Yellow veggies seem to work nicely with this. However, feel free to pour the mushrooms and juices over white or wild rice. It's still plenty delicious either way."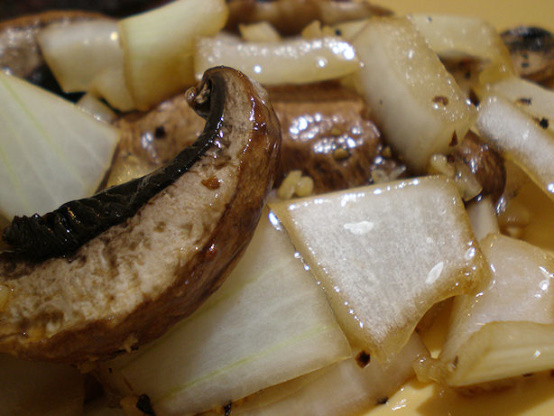 Brooke's Portabellas
2 recipe photos
Directions
Take the Portabello caps, wash them, and let dry for about 10 mins or blot dry with towel. You want them dry enough to absorb all of the flavors.
I make separate pouches with foil and toss them in the oven or straight onto the edge of the grill outside. If you do this, use 2 sheets of foil per pouch and after you've stuffed them, fold them up like a burrito. You can put it all into a baking dish though. Just make sure that the dish is small enough that the mushrooms are at least part of the way covered in liquid after they get hot. I would line the dish with foil and cover with foil as well though. You do not want the liquid to burn off.
I do this on the stove top with great results all of the time too. So, grab a pan if you wanna. Just be sure to cover it and stir often until the Mushrooms are done to your desired tenderness.
First, slice the mushrooms thickly, about as thick as your ring finger (beside your pinky). Put into your pouch or dish and set aside.
Cut your onion whichever kind you like. I love Yellow with this. I use large chunks but, chop as desired. Then, top your mushrooms with it.
Depending on how spicy you like your food, cover Mushroom and Onion with the McCormick's Seasoning. I use A LOT . I mean A L O T! :).
You can sub. McCormick's for coarse black pepper, but it won't do it justice.
Next, put on your garlic. I use about 1/2 of a teaspoon minced for 2 mushroom caps. It seems like a lot but, keep in mind, that it has to "stand up" to the sauces that you are about to add, which are all powerful by themselves.
In a bowl, mix 10 shakes of Soy sauce ( use low sodium soy sauce or reduce the amount if you aren't a salt lover), 5 shakes of Worcestershire sauce, 5 shakes of Kitchen Bouquet, and 2-4 tablespoons of margarine or butter. I use 3 teaspoons per cap. Then, add about 1/4 cup of water and microwave until melted.
Stir well and pour mixture over the mushrooms, cover with foil or close pouches, and bake in the oven for about 15-20 mins at 350°F If you like them firmer, go 10 or 15.
If you like wetter and softer like me, go 20.
*If you do foil pouches on the grill, check them every 5 minutes or they will shrivel into nothing!
*Everyone in my house is ADDICTED to these and we never EVER grill without them. So, let me know if you like them too. =).
If you don't like them MY way, after you try it, experiment with adding more or less of any item to find your perfect flavor. Though I've never seen anyone scrape this to the side of the plate. hehehee.
get the genius kitchen app.
Watch on your iPhone, iPad, Apple TV, Roku, or Fire TV.
Learn More