Want more from Genius Kitchen?
Watch on your Apple TV, Roku, or Fire TV and your iOS, Fire, or Android device.
Learn More
"Gets pounced on every time he makes it."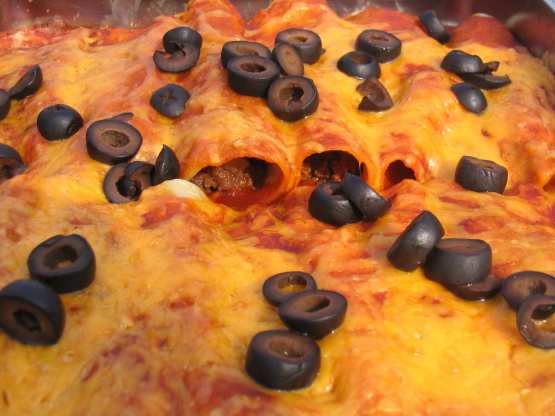 Brother Steve's Deluxe Enchiladas
2 recipe photos
READY IN:

1hr

SERVES:

8-10

UNITS:

US
Directions
Grate cheddar cheese and set aside in covered container in refrigerator for later use.
Pre-measure spices and enchilada sauce for later use.
Dice onion and set aside.
Brown hamburger without spices yet, plain and the diced onion together until done through and onion translucent.
Drain off excess hamburger fat but leave hamburger mixture in skillet over low heat (simmer).
Add Mexican spices to hamburger mixture (cumin, chili powder, oregano, coriander,garlic salt and pepper and add about a quarter to a half cup of water to hamburger mixture with spices in it. Stir around and cover, heating over low simmer for ten minutes. This lets spices steam into the hamburger mixture.
Remove hamburger from heat and set aide for cooling and later use in enchilada filling.
Heat canned enchilada sauce in a large saucepan but don't boil. Merely heat until very warm and then leave on simmer in sauce pan.
Take tortillas and in a hot skillet fry each tortilla one at a time until it is part way fried, but still flexible Take that tortilla with tongs and dip into heated enchilada sauce in sauce pan.
Lay dipped tortilla in your final oven baking casserole pan and in the center , spoon about 2 tablespoons of meat and a tablespoon or two of the grated cheese.
Roll up the dipped, stuffed tortilla like a cigar and place crease face down in baking dish.
Repeat this process for each tortilla, (frying tortilla half-way, dipping in heated sauce, laying open in pan, putting in filling and rolling tortilla, placing crease down in pan).
Order all the tortillas you have done this way in neat rows across the bottom of your baking casserole pan.
Make only one layer deep, don't stack them vertically.
Once you have the whole bottom of your baking pan covered with rolled tortillas that have been stuffed and placed in baking dish, take the rest of your enchilada sauce and pour it down the center between the rows and then dribble a little evenly across the top of the enchiladas.
Take the remainder of grated cheese not used in the filling and evenly pile evenly across the top of the rolled enchiladas and sauce. Make sure the enchiladas are nicely covered with grated cheese.
Place baking dish in oven or roaster at 350 degrees for 30-40 minutes or until bubbling and done.
At the last minute, about 10 minutes before the enchiladas are done and bubbling and ready to serve, sprinkle either optional (drained) ripe black olive (bits or sliced)over the top of the enchiladas.
Alternatively, you can use chopped green onions to sprinkle over top of the enchiladas. Either topping (not both at same time) works to form a nice touch. However, don't put the olives or green onion on too early in the baking process or else the toppings(olives or onions) will get shriveled, dried out and not attractive and tasty.
Bake until done the way you want them.
**Note: If you like, instead of the classic rolled enchiladas, you can make this recipe as a "stacked" enchilada recipe. You will need to increase all the ingredients doing it this way, as it takes more filling and more cheese. If you want to do it this way, do the following: instead of rolling the enchiladas up into cigar shape, you can lay out the fried tortillas dipped in sauce end to end flat across the bottom of the baking pan and then spoon the hamburger filling in a layer over the dipped tortillas, then add your cheese part of the filling sprinkling cheese across the hamburger filling. And repeat this process, doing layer after layer, stacking vertically instead of rolling and making only one layer high of the rolled type enchilada. Do this until you heave come most, but not all the way up to the top of the baking pan. You want to lave room at the top of baking pan for the top layer of generously piled on grated cheese. In essence you are making this into a sort of "enchilada casserole" using the same ingredients but maybe 50 percent more of the listed amount of ingredients, in order to adequately cover the layers.
get the genius kitchen app.
Watch on your iPhone, iPad, Apple TV, Android, Roku, or Fire TV.
Learn More