"Simple roasted salmon coated in brown sugar and glazed with a maple-mustard-dill sauce. Taken from salmoninseconds.com and posted for ZWT."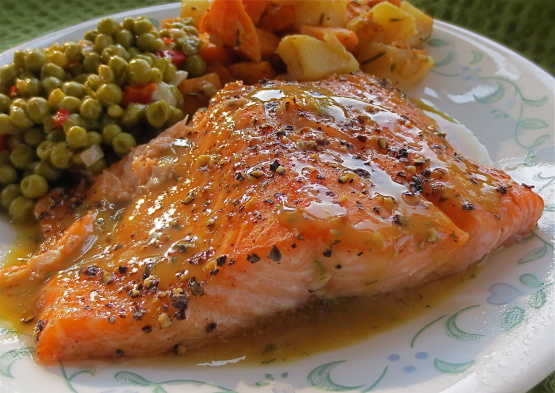 Brown Sugar Roasted Salmon With Maple-Mustard-Dill Sauce
13 recipe photos
Directions
Preheat oven to 400°F.
Combine brown sugar, cracked black pepper and kosher salt in bowl. Mix well.
Rub salmon filets with brown sugar mixture, making sure to use all of mixture.
Let stand for 15 minutes in refrigerator covered lightly with plastic wrap.
Combine maple syrup, mustard and fresh dill in small mixing bowl; set aside.
Coat bottom of baking pan with 1 tbsp olive oil. Place salmon fillets in pan and drizzle with remaining oil.
Bake for 12 minutes or until cooked to desired temperature.
Remove from baking pan and drizzle salmon with maple-mustard-dill sauce.