"This is by far my favorite brownie recipe. I have yet to find an occasion where homemade brownies would not be suitable. Freezes very well, so these are made in mass quantity in November for Christmas, and again in the Spring for the summer picnics."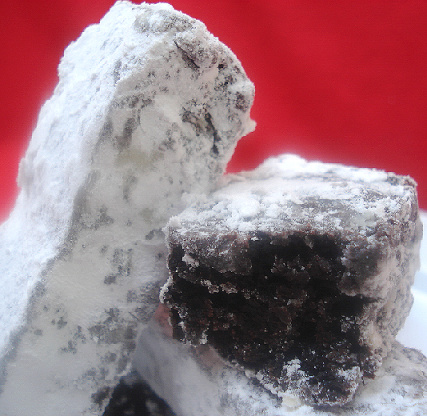 Brownie Fingers
2 recipe photos
Directions
Heat oven to 350°F Line a 13x9x2 inch baking pan with foil, grease foil.
Set aside.
Melt butter and chocolate in a large saucepan over LOW heat till smooth.
Do NOT COOK, you are only melting the chocolate and butter together, this is very very important.
Remove from heat.
Stir in eggs, granulated sugar, and vanilla.
Stir in flour and the ¾ cup cocoa powder.
Spread batter in prepared pan.
Bake for 22 to 25 minutes or till a wooden toothpick inserted in the center comes out clean.
Cool in pan on a wire rack.
Lift brownies from pan with foil.
Cut into bars, wiping knife between cuts.
Roll in powdered sugar or, in a mixture of equal parts powdered sugar and cocoa powder.
I usually serve them plain, and I think they are just fine, but my husband like them rolled in the cocoa sugar the best.
Makes 64.
To store: Place in layers separated by waxed paper in an airtight container; cover.
Store at room temperature up to 3 days or freeze up to 3 months.