"A quick, easy and delicious brownie. Great for new bakers, or for a last minute treat. I have made these without the nuts and had great sucess."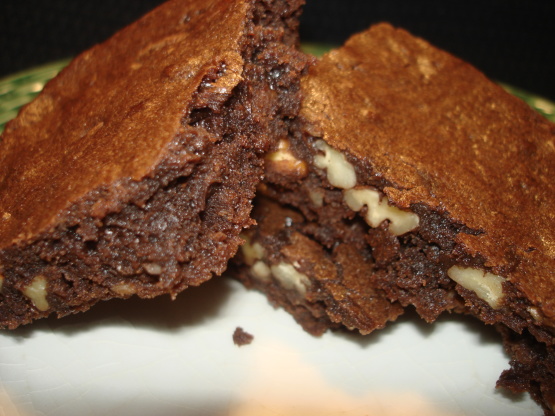 Directions
Preheat oven to 375 F.
Butter and line the bottom of a square 8 inch pan with foil.
Set aside.
In a med.
saucepan melt butter, then remove from heat and add chocolate.
Stir chocolate until melted (you may need to return the pot to heat for a minute to finish melting the chocolate).
Add both sugars to the pan and stir well.
Add eggs one at a time, mixing well after each egg.
Fold in the flour, salt and nuts.
Pour into the prepared pan and tap pan on counter once to smooth the batter.
Bake the brownies about 15-20 min.
Do not overbake, they should be firm but still soft in the center.
Cool pan on a rack.
Turn pan onto cutting board and peel away foil.
Cut into squares and enjoy.