"Our local and very dramatic end of meal coffee - La Flamme des Anges - Angel's Flames or Brulot Charentais certainly provides for lively end of dinner conversation! The sumptuous combination of fine quality Cognac, rich brown coffee and dramatic blue flames provides a memorable end to a special evening. Whether you be celebrating Christmas, New Year, Easter or something more personal such as a birthday, anniversary or simply a special dinner, a Brulot Charentais can brighten up the occasion and turn it into something special. History of Brulot Charentais: Brulot Charentais is 3 centuries old! In times gone by, most people used to take a hot drink or infusion, before going to bed. In the Cognac area, many opted for a wine topped off with burning alcohol, which had the effect of producing 'mulled' wine. The flames symbolised 'festivity' either during or after a meal. For special occasions - baptisms, communions, marriages, birthdays, Christmas, Easter and the like, the Charentais wine farmers, would add a slug of neat Cognac, straight from the cask, to the surface. This Cognac, strong in alcohol, was set alight, reducing its strength and producing striking blue flames. Thus Brulot Charentais was born. The sugar in the saucer would soak up any 'stray drops' of Cognac which also combusted, and blended together, formed a liqueur rich in Cognac flavours. The coffee's taste was transformed by combining with the sugar and Cognac. The coffee reaches drinking temperature due to the combustion. The recipe preserves the aroma and flavour of the Cognac, whilst reducing the strength (down to about 2 - 3 percent). Make your 'soirées' more festive with a cup of flaming Brulot Charentais! The recipe ingredients are for one person - please increase the quantities as necessary. Why not end your celebration the Charentais way?"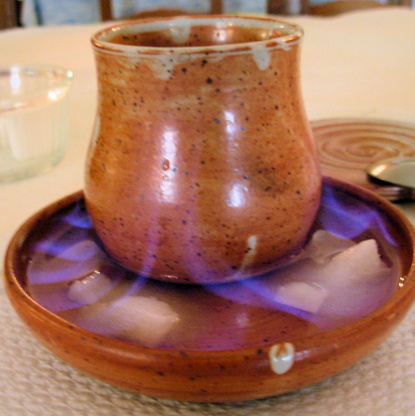 Brulot Charentais - Angel's Flames - French Flambé Coffee
3 recipe photos
1

cup cold brewed coffee
1 1⁄2 fluid ounces cognac (Brulot Cognac -high alcohol 58%)

2 -3

lumps of sugar
Directions
You need HEAT RESISTANT earthenware cups, saucers, and a heatproof coaster. You need 4 cls of cognac, but the Zaar recipe editor would not allow me to post that - which is about a 1 jigger measure.
Place the cup in the saucer (it is preferable to put the saucer on a plate or tray).
Fill the coffee cup with cold coffee, up to two centimetres below the top of the cup, then slowly pour 1 cl of the Cognac onto the coffee (best to use the back of a tea/coffee spoon, so it floats and can catch light).
Pour the remaining 3 cls of Cognac into the saucer, then place 2 – 3 sugar cubes in the cognac.
Light the sugar cubes with a match; the Cognac will slowly ignite, heating the coffee and combining with the sugar to form a Cognac liqueur. (It is important to let the Cognac burn and extinguish naturally; if not, too much alcohol will remain in the mixture, and the special 'alchemy' between the coffee and the Cognac will be lost.).
When the flame has extinguished, wait for a little while for the handle to cool down, place the cup on the coaster. Empty all or part of the contents of the saucer into the cup (depending on personal taste and sweetness required).
Your Brulot Charentais is now ready to drink. Salut!
get the genius kitchen app.
Watch on your iPhone, iPad, Apple TV, Roku, or Fire TV.
Learn More