"On New Year's Day, we invite friends over and have our favorite New Year's Day foods. I make what I thought this was the traditional Brunswick Stew recipe. I have searched the site and none sound like this! Maybe it is only traditional with us! Each year, at Thanksgiving and Christmas, I make turkey stock from our leftover birds. It is way too simple to even write a separate recipe. After dinner, I cut the meat from the bones (of the turkey) that we want to have for leftovers, sandwiches, or other good meals and refrigerate it. Then I put the carcass, the gravy, the neck, turkey skin, a squirrel (if we have one), and a rabbit (if we are lucky) into the pan I cooked the turkey in, along with about 2 quarts of water. I simmer this until time to go to bed, then put it on the deck (it is as cold or colder out there than it is in the refrigerator), and put a couple of bricks on the lid to keep any animals from stealing our broth. The next day, (bring pan back into kitchen) heat to warm, remove bones, and skim fat. Freeze broth and meat and save for New Year's Day. The amounts are approximate."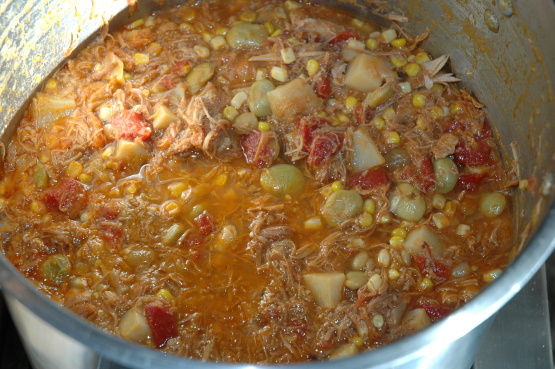 Brunswick Stew
3 recipe photos
Directions
Put stock, meat, and tomatoes in large stock pot and simmer gently.
Add potatoes.
Sauté onions in butter and add to pot.
Simmer this for 3 to 5 hours.
Add limas, corn, sugar, and pepper last 30 minutes of cooking.
Stir frequently to keep from scorching bottom of pan, or put on "reducer".
Correct seasoning and serve.