"Except for my
Twisted Sister's Creamy Cucumber Salad
&
Kate's Afternoon Wine Cooler (Zwt - France)
, I am largely recipe-oriented & just not esp good at orig recipes. BUT this unique & highly touted recipe was pictured in a newspaper restaurant review & inspired me to get copycat-creative. Described as the most popular appy at the Oliveto Italian Bistro in Tulsa, OK, the ingredients were listed & I combined them w/my imagination + a basil-marinated tomatoes recipe borrowed from the Vic's Recipes website & credited to *It Is About Time* by Michael Schlow. This is a very easy-fix, so do not be put-off by my penchant for detail. Altho an appy at Oliveto, I can easily see this recipe expanded to a luncheon entrée & I included a note at the end of the prep to suggest other optional adds for that purpose. *Enjoy* !"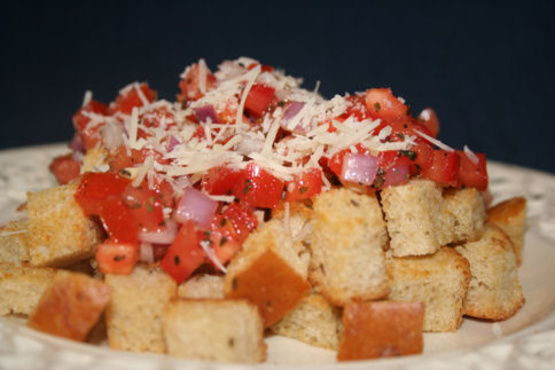 Bruschetta Sundae
3 recipe photos
Directions
For Balsamic Glaze: Combine balsamic vinegar w/brown sugar, mix well & set aside.
For Basil-Marinated Tomatoes: Combine all ingredients in a bowl & marinate for at least 1 hour.
For Bread: Preheat oven to 350°F Slice baguette into 1-in slices. Using a pastry brush, lightly brush both sides of ea slice w/the garlic-infused olive oil. Quarter ea slice, place on a baking sheet & bake till crisp.
To Serve Sundaes: Divide toasted baguette cubes among 4 appy serving plates. Pour off any excess liquid from the marinated tomatoes, add the balsamic glaze to the tomatoes mixture & mix well. Divide tomatoes among the 4 plates & top w/Asiago cheese + basil leaves (if desired).
NOTE: To expand this dish to luncheon entrée size, consider adding red onion, black olives, mushrooms, pancetta or whatever else your taste buds fancy.