"From Byranna Grogan's recipes. I do need to note this will NOT taste like non Vegan pecan pie. If you are seeking that taste the only way to get it is to make a non Vegan pie."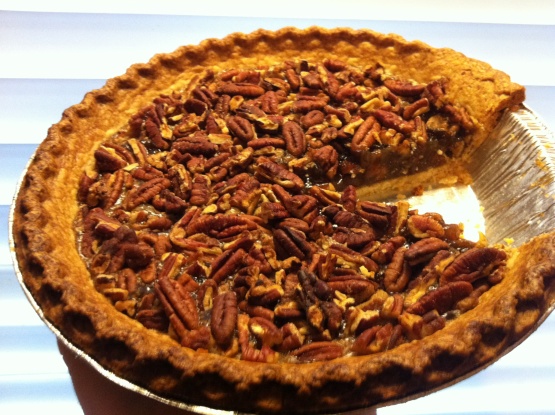 Bryanna's Vegan Pecan Pie
1 recipe photo
Directions
NOTE: Use the white beet sugar/cane sugar AND the brown sugar/sucanat. it is NOT an OR. Use both white sugar and brown sugar.
If you wish to try the maple syrup version of this I suggest googling Bryanna Grogan and Pecan pie. Do not sub arrowroot or kuzu.
Mix the cornstarch with the 4 1/2 T water.
Preheat the oven to 400°F Bake your crust for 3 minutes. Remove to rack.
Combine water and sugars. Boil for 5 minutes. Add salt and dissolved cornstarch and whisk rapidly.
Stir and cook over high heat until just thickened and clear. Remove from heat and add margarine and vanilla. Stir until melted. It will be liquidish.
Pour into shell. Place pecan halves on top and press down a little into the mix. Place in middle of oven at 350°F Bake 30 minutes. It will be jiggly. It should set as it cools. Cool for at least 1 1/2 hours on rack then refrigerate until completely cooled and set.