"This is a staple recipe in my kitchen. This meal is very budget friendly. All the ingredients cost about $10 all together, and you should already have most of the ingredients in your pantry. This is a meal that you can cook for breakfast, lunch, and dinner. It is also a good make ahead meal. P.S. This recipe can also be made with ground turkey or pork, or even the veggie ground beef. I have also made the exact same recipe with pork chops and beef steak."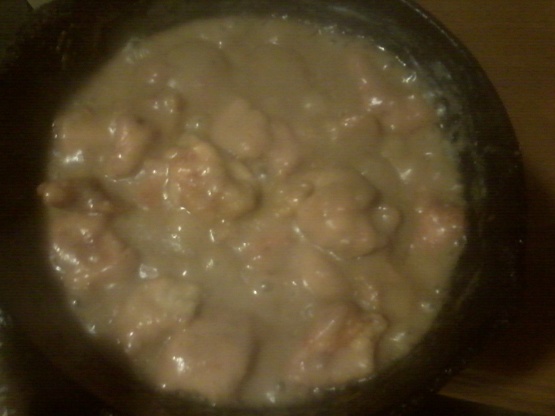 Budget Southern Fried Chicken N' Gravy
1 recipe photo
For chicken

1 -4

boneless skinless chicken breast (One per person)

oil (for frying, You really only need enough to barely cover the bottom of the pan that you are using})

flour, to coat chicken

For Gravy

2

tablespoons flour

2

onion rings (Cut into half moons)

1 -3

cup water (for the gravy)

dripping, from fried chicken pan

salt and pepper
Directions
This is a one pot meal!
1. Heat up oil in skillet( turn the oil on low because you don't want the oil to get too hot its bad for the gravy).
2. Cut the chicken breast into small bite size pieces.(You should end up with 10-15 chunks per breast depending on how big or small the chunks are).
3. Season the chunks of chicken to taste with salt and pepper.
4. Dredge the chunks of chicken in flour and brown them on both sides in the skillet. It should take about 30 seconds- 2 minutes per side. (WATCH THIS STEP CAREFULLY!. Since the chicken is small chunks YOU ONLY WANT TO BROWN AND COOK THE CHICKEN SLIGHTLY AS IT WILL CONTINUE TO COOK IN THE GRAVY).
5. Take the chicken out of the pan and drain on paper towels.
For Gravy:
1. Pour off the most of the oil into a separate container(SAVE THE OIL) leaving 1 to 2 tablespoons of oil with the pan drippings in the pan. Begin sauteing the onions until they are tender and translucent).
2. Add the two tablespoons of flour in with the onions along with about 2 tablespoons of the reserved oil. Cook the flour for about 2 minutes until the raw flour taste is cooked out.
3. Begin adding your water. I do it in half cup increments. You don't want your gravy to be to soupy or too thin. (You are looking for the thickness of like a Béchamel sauce before you add the cheese to make macaroni).
4. When your gravy is think enough to your liking season to taste with salt and pepper. Add the chicken in the gray and let the gravy cook for 5 minutes so the chicken can cook through.
5. Enjoy! You can serve chicken and gravy over white rice, mashed potatoes, or grits. I eat it also with a nice cold glass of southern iced tea.
get the genius kitchen app.
Watch on your iPhone, iPad, Apple TV, Roku, or Fire TV.
Learn More