"Got this recipe from my Bulgarian mother-in-law (took notes while she made it, and have made it since). This makes a lot, so feel free to halve it - I often do, but it also freezes really well. It's a day's project, but well worth it - we love the combination of the lemon zest and the rummy raisins in this fresh bread. The braiding is the traditional form, but I have also made this in small loaf pans just to save time, and rolls are yummy too. Be careful not to cook too long - you will lose the wonderful stretchy yeasty moist texture."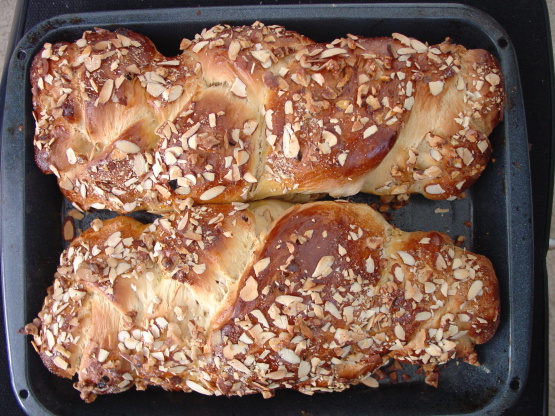 Bulgarian Easter Bread (Kozunak)
1 recipe photo
Directions
Mix first five ingredients (yeast, small amount sugar, salt, one egg, warm milk) in a large bowl.
Cover and leave in a warm place for 40 minutes.
Put raisins in rum to cover, and set aside to soak.
Grate and juice the lemons.
Set aside.
Sift 4 of the five pounds of flour onto a large tray or other work surface.
(You can estimate- does not need to be precise.).
Melt butter and combine with oil.
Heat 2 cups of milk and sugar on low in a small saucepan until warm.
Separate 4 of the eggs; set aside the yolks for brushing.
Beat the whites with the other 7 eggs.
Add a handful of the flour from the work surface to the warm yeast mixture.
Bit by bit, mix in with a spoon the rest of the flour, the milk mixture, the beaten eggs and the butter/oil mixture.
When most of it is together, mix in the lemon juice and zest, and the vanilla.
Adding more flour to the work surface if necessary, dump out the dough and knead until it holds together well.
Let the dough rest in a warm place until double in bulk (1-2 hours).
You may need to divide between two bowls.
Punch down and knead the dough.
Drain the raisins and dredge in flour.
Work about half of them into the dough as you knead, a few at a time.
Let the dough sit and rise again (another 1-2 hours).
Preheat oven to 425 (400 if your oven runs hot).
Punch down and knead again.
Divide the dough into 8 parts.
Each of these, divide into three parts; roll them long and braid into a single loaf.
While braiding, work the remainder of the raisins between the strands.
Brush the loaves with the reserved egg yolk and stud the top with nuts.
Bake the loaves about 30 minutes or until golden brown.
(We usually did about 3 loaves at a time.) You can also use the dough to make smaller rolls, if you prefer; bake for proportionally less time.
get the genius kitchen app.
Watch on your iPhone, iPad, Apple TV, Roku, or Fire TV.
Learn More