"When I was a kid in school, they used to sell these cookies, and I'd always wonder how they made them taste so good...Now, as an adult, I have been experimenting, trying to come up with a recipe, since I couldn't find any online. I struck gold yesterday, and so, here is the recipe, which if I may say so myself, taste even better that the Linden's brand! Enjoy!!!"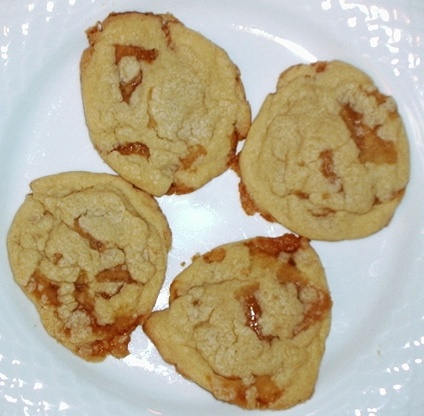 Butter Crunch Cookies
1 recipe photo
Directions
Preheat oven to 325°F.
In a medium bowl, sift the flour, cornstarch, baking powder, baking soda, powdered sugar and salt.
In a small heavy bottom cast iron skillet, melt 1/4 C of butter, and 1/2 C sugar over very low heat, until it is bubbling and thick. Let this mixture cool for about a minute, (no more) and then pour it onto a cookie sheet that has been lined with parchment paper to cool a few minutes more.
When it is cool enough,(and still slightly pliable) break off small pieces using a sharp heavy knife, or maybe a clean screwdriver. It will be a lot of work, but you'll get a little muscle, and the reward of knowing that your cookies are going to be so good, you won't mind all of the work!
Now, in a large mixing bowl, beat the remaining sugars with the remaining butter until it is light and fluffy. Add the egg, and mix again. Add the vanilla and the corn syrup, mixing until it is combined.
Then, add the flour mixture, a little at a time, until it is completely incorporated. With a wooden spoon, add the cooled candy pieces, distributing them evenly throughout the dough.
Refrigerate the dough for about 30 minutes, or freeze it for 15. When it is cold, roll out 1 1/2-inch balls of dough, and be careful, those pieces of toffee will probably be really sharp! Place the balls of dough 2 1/2-inches apart on an ungreased cookie sheet, and bake for 9-11 minutes, making sure that they don't brown too much. They should be very light on top, and golden on the bottom.
After two minutes, remove the cookies from the cookie sheet, and continue cooling on a wire cooling rack, about 7-8 more minutes, or until the toffee is set.