"It is a cheesecake that has a similar flavor to Butter Pecan Ice Cream. Now what could be greater than Cheesecake with Butter Pecan Ice Cream laced with carmel and a buttery pecan granola crust? I won 1st place of $2,500 on the KTLA Morning News Show in Los Angeles, CA. for this dessert. This contest was sponsored by the movie "Waitress". It's a lot of work but oh my, well worth it. I have not included some of my secret ingredients in order to keep it original but it is still good."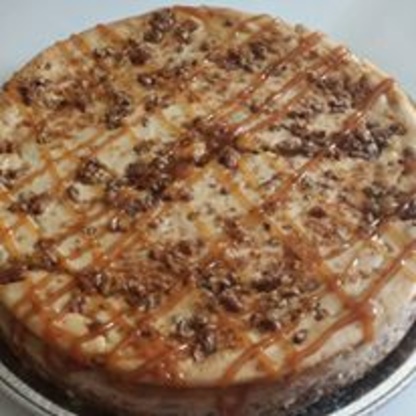 Butter Pecan Caramel Cheesecake
5 recipe photos
Directions
Bake pecans in 1/2 stick of butter in oven for 15 minutes Combine in blender the pecans, granola crumbs, flour and brown sugar, Reserve 1/3 cup of the granola mixture to put on the top of the cheesecake. Melt a half a cup of butter and mix it with the Granola mixture then put the rest of the mixture on the bottom and sides of a 10 inch springform pan pressing firmly. Place in the preheated (350) oven and bake for crust for 10 to 12 minutes. Remove from the oven and cool.
In a double broiler or a metal bowl steamed over hot water, place caramels in the bowl with the evaporated milk and stir constantly until completely melted stir in the butter. Pour caramel mixture over the bottom of the granola crust. Reserve approximately 1/2 cup or more for the batter. (I now make my caramel from scratch it's a lot easier to work with and not as hard as the candy caramels. If you know how to make good caramel from scratch I strongly recommend that instead).
Do not let the caramel sauce touch the pan or it will stick and break the pan.
Beat the cream cheese until light and fluffy then gradually add the sugar and mix it well at medium speed. Beat in the sour cream, vanilla and butter flavoring. Add caramels to the cream cheese mixture. Stir in the remaining roasted pecans. Add eggs one at a time, beat well after each addition.
Pour batter over the caramel mixture. Sprinkle the crumb mixture over the batter. Bake at 475 for 10 minutes then reduce temperature to 300 and bake for 55 minutes. Allow cheesecake to cool down in the oven with the oven off. Let cool then refrigerate for at least 6 hours before serving, preferably over night.
This cheesecakes success required that you use a standard cheesecake water-bath to avoid cracking. Special instruction on cutting: Take a very sharp knife and run under hot water before each cut. Cut straight down and force the knife through the caramel because it will be very hard. The first cut is always the hardest. It gets easier with each cut.
get the genius kitchen app.
Watch on your iPhone, iPad, Apple TV, Roku, or Fire TV.
Learn More