"This is a deceptively simple and sublimely elegant dessert that whips together in minutes, baring the waiting time. It is a dessert that grows on you, it's a delicious and smooth pudding that elicits small moans of "Mmm," and "Wow!" from those who try it. It's just sweet enough, super creamy, with a sunny tang that teases you to keep taking bite after bite until, lo and behold, you've eaten the whole bowl. Served plain, it is a perfect end to a hot & spicy meal to cool the palate. With some fresh raspberries or a strawberry that is fanned out on top, it adds a special flair. Don't be tempted to bury this under jam, jelly or a mashed fruit; all that extra flavour will completely mask the delicate undertones of the buttermilk. This is especially pretty, served in tiny parfait glasses with a layer of fresh berries between each level of pudding."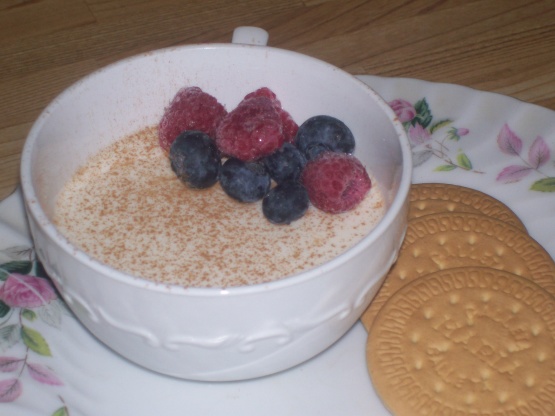 Buttermilk Pudding With Fresh Fruit
2 recipe photos
READY IN:

3hrs 15mins

SERVES:

6

UNITS:

US
Directions
Mix the gelatin with 2 tablespoons of warm water in a small bowl and set aside. Don't worry if the gelatin actually "gels" while you are warming the cream! It completely dissolves once it's placed in the warm cream.
Put the whipping cream and sugar into a small saucepan over medium heat. Heat only until the sugar has dissolved; do NOT scald! Remove from heat, stir in the vanilla extract and add the gelatin to the warm cream mixture. Stir until the gelatin has dissolved. This will take a couple of minutes of stirring with a wooden spoon until the gelatin is completely incorporated into the warm cream.
Allow cream to come to room temperature. I have successfully held the pan over a bowl filled with cold ice water, stirring constantly, to reduce the temperature faster.
Once the cream has cooled to room temperature, add the buttermilk and stir well until thoroughly combined. Strain through a fine mesh sieve into a pourable container that can hold 4 cups, to catch any bits of undissolved gelatin.
Pour the mixture into ramekins, about 1/2 cup per ramekin (the pudding is very rich). Cover the ramekins with plastic wrap and chill to set for at least three hours. At the 1st hour, this is still liquid; at the 2nd hour, it begins to set and by the 3rd hour, it's sheer perfection.
Serve as is for a refreshing and light dessert, with a few fresh berries on top, or layered in a parfait glass with berries.