"I had some butternut squash to use as I had cut one for another recipe. I found this recipe in the 'delicious' magazine in the November 2004 edition. I realised that I also had lots of fresh coriander (cilantro) and sour cream sitting in the fridge, so this recipe was just made for the situation I was in! In this recipe, the squash is roasted first to enhance its flavour. I love the combination of the smooth butternut squash purée and the freshness of the coriander. But what really rounds the soup off is the cold and creamy sour cream and the roasted, crunchy pumpkin seeds. This soup makes a great starter, but also a nice meal when served with bread and or salad. The original recipe calls for kabocha squash or pumpkin."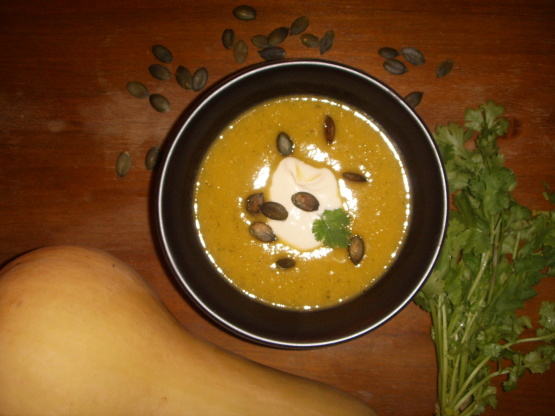 Butternut Squash Soup With Coriander and Pumpkin Seed Pesto
1 recipe photo
READY IN:

1hr 45mins

SERVES:

4-6

UNITS:

US
Cream of butternut squash

1 1⁄4 kg butternut squash or 1 1⁄4 kg kabocha squash or 1 1⁄4 kg pumpkin

sunflower oil

20

g butter (the original recipe calls for 40)

1

medium onion, chopped

Pumpkin Seed Pesto

30

g shelled unsalted pumpkin seeds (from supermarkets and health food stores)

40

g fresh coriander (leaves and stems)
1⁄2 green chili, deseeded and finely chopped

1

fat garlic clove, crushed

65

ml olive oil (1/4 cup)

25

g parmesan cheese, finely grated (1/3 cup)

To serve with

4

tablespoons sour cream

1

sprig coriander, to garnish (optional)
Directions
Preheat the oven to 180°C/fan160°C/350°F/gas 4.
Remove skin, fibres and seeds of the squash/pumpkin and cut into cubes (mine were approximately 5-6cm). (You may also want to leave the skin on and remove after roasting if this is easier with the particular squash/pumpkin you are using.) Rub the squash pieces with sunflower oil and season well with salt and pepper. Put them into a small roasting tin (skin-side down if skin wasn't removed). Roast for about 40 minutes or until tender.
Remove squash from oven and remove skin when cool enough to handle if you haven't done so earlier. You may also want to cut squash into smaller chunks if your pieces are rather big. I didn't cut mine any smaller, as I preferred to cut my squash into smallish chunks before roasting.
Melt the butter in a large pan, add the onion and cook gently for about 10minutes until the onion is very soft but not browned. Add the roasted squash, and any juices from the plate and the stock. Note: I used 1.2 litres of water, but only stock cubes for 1 litre, as you have salted your squash before roasting it, and you will also add parmesan. Cover and simmer for 20 minutes or until squash is ready to be liquidised.
Meanwhile, make the PESTO:.
Heat a dry, heavy-based frying pan over a high heat. Add the pumpkin seeds and shake them around until lightly toasted. Cool, reserving 1 tablespoon of seeds to garnish.
Put the rest of the seeds into a food processor with the chilli, garlic, fresh coriander and oil. Blend to a paste. Transfer to a bowl and stir in the parmesan, seasoning to taste.
Finish SOUP:.
Leave the soup to cool slightly, then liquidise in batches until smooth. Note: I always use a high pan and a hand-held liquidiser, so I don't need to remove and return the soup. Return to a clean pan and bring back to a gentle simmer. Stir in 4 tablespoons of the pesto (I stirred in all of it, although it was more than 4 tablespoons, but stir in four and check how you like it)and adjust the seasoning.
SERVE:.
Ladle into warmed bowls and add a spoonful of sour cream, and sprinkle with the reserved pumkin seeds and coriander leaves.
If you haven't used the whole amount of pesto before, serve it at the table, so everybody can stir in more if desired. Another possibility is to top crackers or toasted bread with it and serve together with the soup.