"I was in a baking mood tonight and thought of apple crisp. But then I wanted something like date squares without the date filling. So I created this and.... WOW!! These are sooooo yummy. Soft & Chewy & Crispy = WOW!"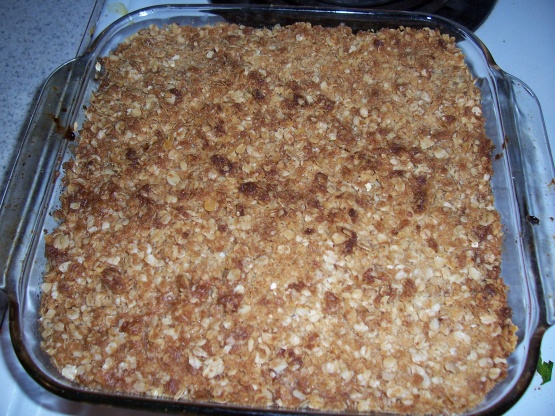 Butterscotch Apple Pear Squares
2 recipe photos
Directions
Preheat oven 350°F.
Peel, core and dice up the apple and pear. Place in a fryin pan on med high heat, add in 1 tbsp brown sugar, cinnamon, and 1 tbsp butter. Once the apple/pears goes soft, turn down the stove to medium heat and simmer for 10 minutes. Add in nuts.
Meanwhile in a bowl, blend flour, baking soda, and salt. Cut in butter with pastry blender until mixture resembles course crumbs. Stir in brown sugar and oats. Do not over mix. Mixture should stay crumbly.
Press half of crumb mixture over bottom of a 8x8-inch pan to form bottom crust.
Turn off the stove and stir in the butterscotch chips to the apple/pear filling. Gently spread apple/pear filling over bottom crust. Sprinkle remaining oat mixture over apple/pear filling. Lightly pat with palm of hand to even out.
Bake for 25 minutes at 350F or until crust is golden brown. Cool completely and cut into squares.