"This crunchie, sweet, salty snack is a great family treat for Halloween,your monthly cravings,or a good movie! Best made on days with no humidity.Try a mix of your favorite nuts in place of the cashews."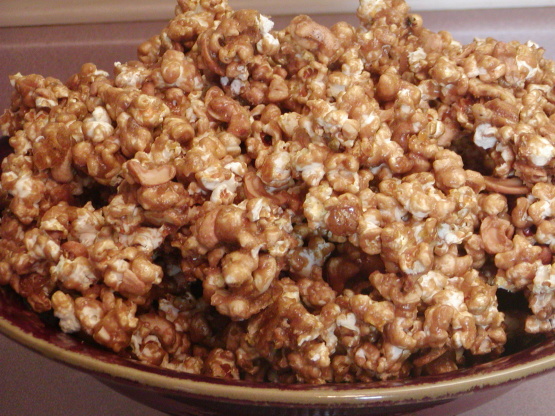 Butterscotch Cashew Popcorn (SOOOO Good!)
2 recipe photos
Directions
Heat oven to 250F degrees.
Grease parchment paper on a 14x10" cookie sheet pan.
Pop the popcorn.
Put nuts and popcorn in a very large bowl or stock pot.
Bring brown sugar, corn syrup and butter to boil, stirring until sugar is dissolved.
Reduce heat and cook for 5 minutes.
Remove from heat; stir in butterscotch chips, buttershots, baking soda and salt until blended and smooth.
Working quickly pour syrup over popcorn and nuts, stir to coat thoroughly.
Pour mixture into pan; bake 30 minutes.
Remove from oven, cool mixture in pan about 15 minutes.
Turn mixture out of pan onto foil to cool completely.
Break popcorn into smaller pieces; store in zip lock bags in cool dry place up to 2 weeks if it last that long.