"I found this recipe on About.com, it was posted by Peggy Trowbridge Filippone. But one of the reviewers on that site said that it was originally a Julia Childs recipe. I'm reposting it here because the other site isn't open for reviews. I've made this recipe, and it is amazing, the muffins are rich and moist. I had trouble getting them out of the paper liners, and the were a little concave, but incredibly delicious."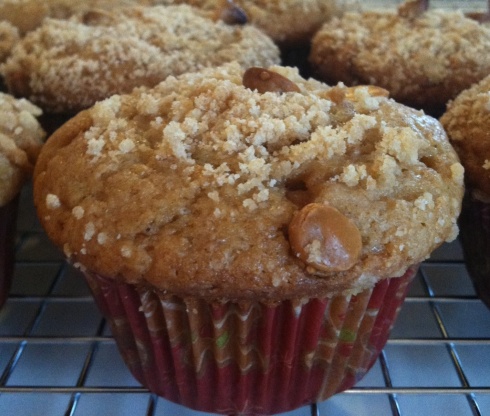 Butterscotch Crumb Muffins
1 recipe photo
Directions
Preheat oven to 350 degrees F and position oven rack in center of the oven. Line muffin tins with papers.
In a large bowl, combine flour and brown sugar until no lumps remain.
Add shortening and cut in until the mix resembles coarse crumbs.
Reserve 1/2 cup of the flour/sugar/shortening mix and set aside to use as the crumb topping.
To the remaining flour/sugar mix, add baking powder, baking soda, cinnamon, nutmeg, and salt. Using a fork, combine well.
Add buttermilk and beaten eggs.
Using a large spoon, mix just until flour is moistened, it will be lumpy.
Fold in butterscotch chips.
Fill muffin cups 3/4 full. Sprinkle tops with about 1 teaspoon of reserved crumb topping mixture and gently tamp down into batter.
Bake 25 to 30 minutes or until they test done with a toothpick.