"I found this on the Hillbilly Housewife website. We love bread sticks and this is fairly simple. So far have tried it once and they were good. They weren't that pretty but tasted as good as getting take out."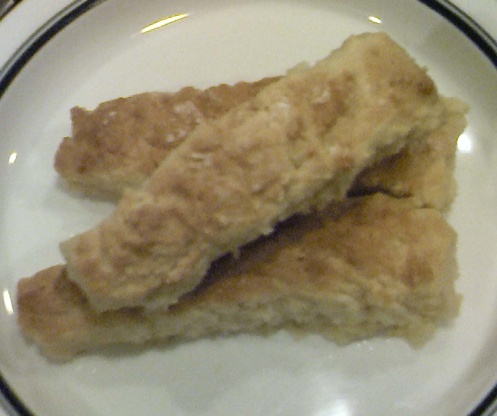 Buttery Bread Sticks
1 recipe photo
Directions
Place the margarine in a 9 x 13 rectangular pan and place in a 425 degree oven to melt the margarine.
Meanwhile combine the flour, sugar, baking powder and salt in a large mixing bowl.
Using a fork to stir, gradually mix in the milk. Add a little more milk if needed.
Stir up the dough until it is cohesive and forms a soft ball. Coat the ball with flour if it seems sticky.
Rip off a sheet of waxed paper and pat or roll the dough out on top of the wax paper. Make a roughly regtangular shape to fit the hot pan.
Remove the hot pan from oven once margarine is melted. Gently place the large sheet of dough into the pan, overtop the hot margarine, being very careful not to burn yourself.
Next, use a pizza cutter or sharp knife to cut the dough in thin strips, as well as down the middle if desired. The margagine will ooze up between the sticks. You may sprinkle Parmesan cheese on at this time if you like--or add garlic salt or garlic powder to the butter before adding the dough.
Bake at 425 degrees for about 15 to 20 minutes. They will bake up golden brown, crunchy on the outside and soft in the center.
get the genius kitchen app.
Watch on your iPhone, iPad, Apple TV, Roku, or Fire TV.
Learn More