"I grew up in Louisiana and we had this at least once a week. Now, I only make it every now and then because I am watching my cholesterol. This recipe does not have as many livers and so the liver flavor is not overpowering as in some recipes. Just the way I like it. The secret to this recipe is using a variety of meats and cooking the gizzards for a good long time. Adopted from Louisiana Cajun Magic Cookbook by Chef Paul Prudhomme. This recipe requires active cooking (stirring) for a good 20-25 minutes. The rest of prep is chopping and ingredient prep time. Passive cook time is for the times the recipe needs minimal attention and is just simmering. We eat this both as a main dish and a side accompaniment."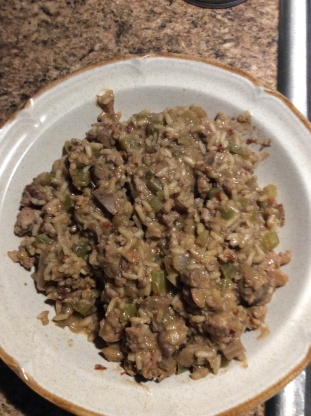 Cajun Dirty Rice
1 recipe photo
READY IN:

1hr 30mins

SERVES:

6

UNITS:

US
Directions
Place chicken gizzards and bay leaves in a saucepan and cover with water to one inch above gizzards. Bring to a simmer and cook with cover on at least 30 minutes while chopping and preparing ingredients. When done preparing ingredients, drain gizzards, (reserve water if you want to use for part of stock) and chop fine.
While gizzards are cooking, chop veggies and gather spices. I personally use my food processor to speed up the process of grinding the livers and chopping the veggies.
If you are going to sub out the chicken livers for ground beef or ground turkey, brown it while browning the pork mixture and then reserve -- drained. If you are using roasted chicken, shred it now and reserve.
Place oil, simmered, drained & chopped gizzards & ground pork in a large heavy skillet over high heat and stir well; cook until meat is thoroughly browned, 7-10 minutes, stirring occasionally. Drain all oil off and put back on burner.
Lower heat to medium and stir in Poultry Magic, mustard and cumin. Then, add onion, celery, bell pepper and garlic; stir thoroughly, scraping pan bottom well. Add butter and stir until melted. Reduce heat to medium and cook 4 to 5 minutes, stirring constantly and scraping pan bottom well. (if you are not using a heavy-bottomed skillet, mixture will stick a lot).
Add rice and cook 3 to 4 minutes, stirring and scraping pan bottom constantly (the rice should crackle and pop and look similar to puffed rice cereal). Add stock and stir until any mixture sticking to pan bottom comes loose; cook about 4 minutes over high heat, stirring occasionally.
Then stir in ground (or chopped fine) chicken livers (or your subbed ingredient), cover pan and turn heat to low; cook about 10 minutes. Remove from heat and leave covered until rice is tender, about 10 minutes. (The rice is finished this way so as not to overcook livers and to preserve their delicate flavor) Remove bay leaves and serve immediately.
For liver haters, substitute ground beef or chicken. Still tastes good, but it's not authentic Creole.