"I watched my Grandmother make pies. During Christmas season my Grandmother and Great Aunts ( I was always in her skirt tails) would get together and make every kind of pie and cakes they knew. I am talking days and days of baking. I watched and helped. I was in Heaven. I was also the only child that wanted to be there. So I got all the attention and schooling. I loved it. So I don't know exactly who taught me but it was one of them. I had to stop and write the recipe due to it was in my head and not on paper. It is a warm feeling everytime I make them."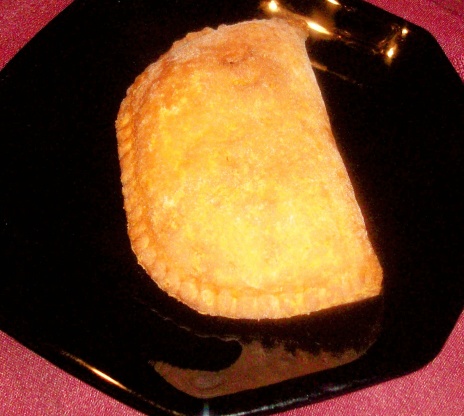 Cajun Mini Meat Pies
1 recipe photo
Directions
Filling:.
Brown ground meat only till all brown.
add the rest of ingredients and simmer till all are cooked down.
drain in a strainer let sit in strainer to cool down set aside.
Crust:.
Mix all dry ingredients in large bowl.
Mix eggs and milk.
add to dry ingredients slowly while stiring.
add shorting and cut in with pastry cutter or two knives.
when well mixed form balls about the size of a tennis ball.
roll out ball with rolling pen.
cut out in about a 6 inch circle.
use wet paper towle to wet around outer circle.
put about 2 tablespoons of meat filling in center.
fold over crust to form like a half moon
press edges to seal with fingers.
use a fork to repress edges and give a decortive look.
when all are done put in fridge for at least an hour or till ready to fry.
fry in very hot oil.
turn when golden brown and fry other side.
frying is very fast do not over fry meat is already cooked.
can freeze unfried only.
wrap indivdually in wax paper put several in zip lock bags freeze flat.
after frozen then can stack as will.
get the genius kitchen app.
Watch on your iPhone, iPad, Apple TV, Roku, or Fire TV.
Learn More