"Finally, the recipe I was searching for when I "stumbled over" the other 2 I just posted. The website source for this recipe is joycesfinecooking.com/canadian_recipes. Altho not kid-friendly w/whisky in the marinade, it is a sml amt & it appears the marinade could be halved & used to fix adult & kid portions. This recipe caught my eye because I thot it would also work well w/lamb meat. Altho unusual to combine lamb w/oranges, it sounded good to me. Think about it ... lamb, oranges, whole mushrooms & onion (all marinated using this recipe & cooked on the grill). How could that ever be bad? NOT! (Time specified does not include time to marinate) NOTE: While the whisky is shown as an optional ingredient, the recipe author made quite a point to say she NEVER leaves it out."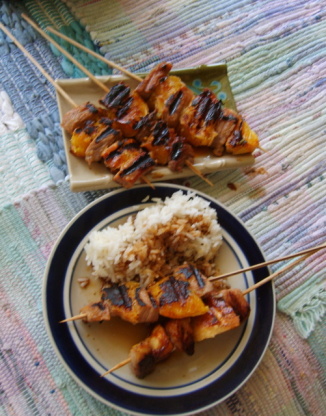 Canadian Kebabs, Eh? (Zwt II)
3 recipe photos
Directions
In a lrg resealable bag, combine vinegar, garlic, syrup, onions, whiskey, cloves, salt & pepper. Set aside 4 tbsp of marinade for basting.
Trim fat from steak. Cut into 1" cubes & add to the bag. Seal tightly & refrigerate for 30 min or overnight. Discard marinade used on steak.
Thread steak & orange chunks onto metal or soaked wooden skewers. Place skewers on a greased grill over med-high heat. Close lid & cook 4-5 min per side or till browned but still pink inside (baste w/reserved marinade at least once during grilling).