"Delish and very pretty plain or dipped half-way in tempered chocolate, also to use in a lot of different confections. I think the addition of orange liqueur to the process makes this recipe the best I've ever tasted. My daughter helps sugar them...with an eagle eye out for any broken ones that aren't fit for the gift tins! This is adapted from a recipe in one of my cookbooks entitled 'Truffles, Candies, and Confections' by Carole Bloom. It's rather time consuming, but makes enough for several gift baskets. Remember, you can use lemon peels with a lemon liqueur, which is fabulous! And grapefruit works also!"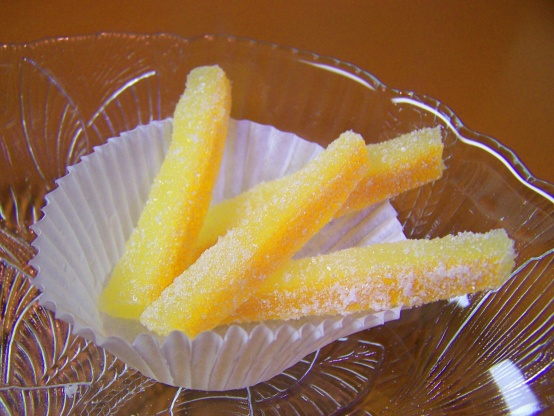 Candied Orange Peel
1 recipe photo
Directions
Slice the ends off the oranges and discard. Cut the oranges into quarters, then cut off all but 1/2 inch of the pulp, which keeps the peel from becoming bitter as it cooks. Cut the quarters into thin slices.
Place the orange slices in a 6-quart saucepan and cover with cold water. Over medium-high heat, bring the water to a boil and boil for 5 minutes. Drain off the water and repeat this process with fresh cold water two more times.
After the third boil, drain the orange slices, rinse them in cold water, and remove any pulp that is still attached, making sure there are no pieces of pulp stuck to them, (for looks only). In the saucepan, combine the orange slices, 3 cups of the sugar, and the orange liqueur, and cook over low heat until the sugar is dissolved (about 5-10 minutes), stirring constantly.
Cover pot and cook 10 minutes to steam down the sugar granules on the side of the pot, stirring every few minutes. Continue to simmer over low heat for 1 1/2 hours, stirring frequently. Most of the sugar will be absorbed by the peel as it cooks. Remove the saucepan from the heat and immediately begin the next step.
Place the remaining 3 cups sugar on a sheet of waxed paper, I use a cookie sheet with a rim). Roll spoonfuls of the orange slices in the sugar, separating the slices to coat them completely.
Transfer the slices onto racks and let them air-dry (20 to 30 minutes).
In a tightly covered container, the peel will keep for 2 to 3 months in the refrigerator.