"This recipe is a family favorite and it is the number one requested food at family gatherings. I have no idea where the recipe originally came from, but I know my Mother has been perfecting it for years. Now in our family there are two thoughts on the proper way to eat them. Some like them with butter to cut the sweetness and the others eat them plain. Your choice! Enjoy."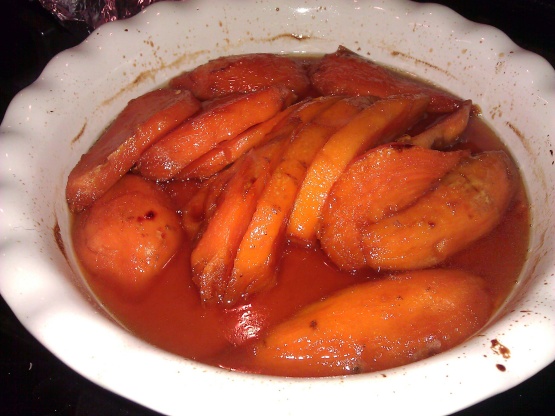 Candied Sweet Potatoes
2 recipe photos
Directions
Boil sweet potatoes in skins for 15 minutes, rinse with cool water and remove skins.
Mix brown sugar and water in sauce pan, and boil together for 5-minutes, stirring frequently forming a syrup.
Add butter and stir until dissolved. Add salt and remove from heat.
Cut sweet potatoes in quarters lengthwise with cut side down in a.
greased 9"x12" baking dish.
Poor syrup mixture over the sweet potatoes, cover them and bake at a 350° F oven for 60-minutes.
Baste sweet potatoes with syrup in the pan.
Turn them over every 10-minutes.
Remove from oven.
Optional: serve with or without butter.