"From the sales literature for the cookbook called "A Passion For Baking" by Marcy Goldman. I like that these have no cornstarch in them like some other recipes. These sound delicious and I am sure you could use your favorite chocolate bar. I am stashing this on Zaar to try with Reeses Cups. It is making me hungry just thinking about them! Just might have to break down and buy this cookbook."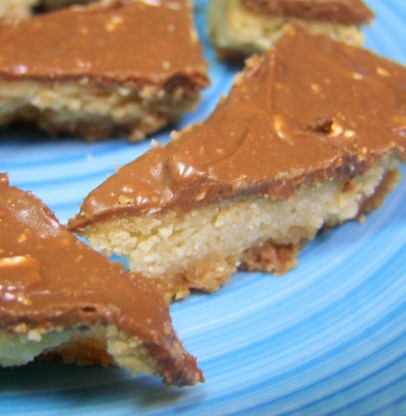 Candy Bar Shortbread
1 recipe photo
Directions
Preheat oven to 325 degrees.
Stack 2 baking sheets together and line top sheet with parchment paper.
In a mixer bowl, cream butter and sugar until blended.
Add flour and salt and mix to make a stiff dough that does not quite hold together.
Pat dough into a 13"x9" pan that is lined with parchment and set pan on prepared baking sheet OR pat dough in a rectangle (about 14" by 10").
Bake until lightly golden, 25 to 40 minutes.
Sprinkle chocolate on hot, uncut shortbread.
Let set about 5 minutes and smear chocolate around.
Cut into 2-inch squres and remove cookies to the fridge or freezer to set up.