"From Cook's Country magazine. Grind the peppermint candies in a food processor until they are pulverized. Times do not include chill time of at least 2 hours."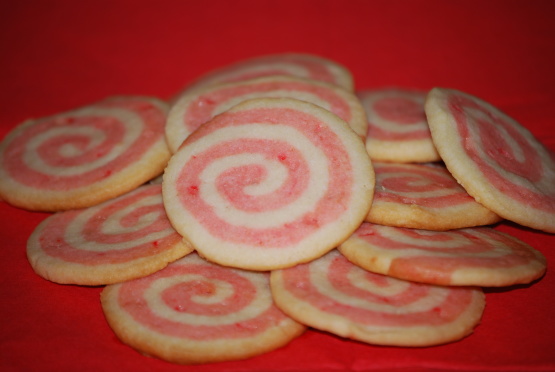 Candy Cane Pinwheels
1 recipe photo
Directions
whisk flour, baking powder, and salt in bowl.
With electric mixer on medium-high speed, beat butter and sugar until light and fluffy (about 2 minutes).
Beat in egg until incorporated.
Reduce speed to low, add flour mixture, and mix until dough forms (about 1 minute).
Remove half of the dough from bowl and reserve.
Add extracts, candy, and food coloring to remaining dough and mix until combined.
Place reserved dough between 2 sheets of parchment paper and roll into 14 by 8-inch rectangle. Repeat with peppermint dough, then place on top fo plain dough and press gently to adhere.
With long side facing you, roll dough into log.
Wrap dough in plastic wrap and refrigerate until firm, at least 2 hours or up to 3 days.
Adjust oven racks to upper-middle and lower-middle positions and heat oven to 375 degrees.
Line 2 baking sheets with parchment paper.
Slice chilled dough into 1/4-inch rounds and place 1 inch apart on prepared baking sheets.
Bake until edges are just golden (12-14 minutes), switching and rotating sheets halfway through baking.
Let cool 10 minutes on sheet, then transfer to wire rack and cool completely.
Repeat with remaining dough.