"Had a whole lug of fresh apricots, 26#s decided to make a flavored sugar syrup. Very easy. Makes 12-14 quarts or approx. 24-26 pints. Flavored syrup can be frozen and added to ice tea or lemonade."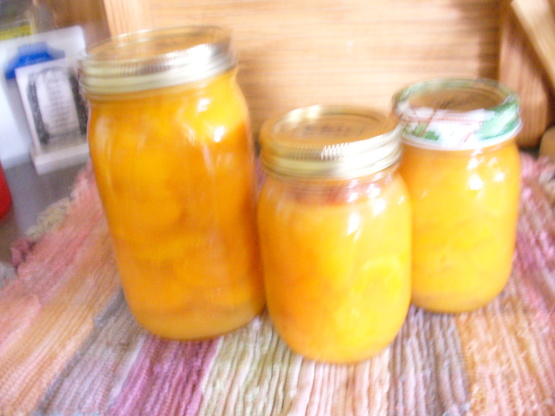 Canned Apricots With Orange Pineapple Syrup
1 recipe photo
Directions
Wash jars in hot soapy water. Rinse well.
Turn oven to 250 degrees. Place jars upside down in 9X13 pan and place in oven. Pour hot water around the jars, about an 1 1/2 inchs.
In water bath canner, add water half full.
Place rack on the canner above the water. Put lid on and heat.
In large stock pot mix lemon juice, sugar, pineapple juice, orange jello and hot water. Stir until dissolved.
Heat moderate heat until hot, add apricots and gently stir until hot.
Heat seals in a separate saucepan of hot water.
Fill hot jars leaving 2 inches of head room. Use a knife blade to go on each side of jar to eliminate air pockets.
Wipe rim and sides of jar with a clean hot wet cloth. Place seal on jar and screw on ring tight. Place in the rack in canner.
Do this with each jar. I like to load the apricots and top off with hot syrup.
Lower rack into canner, place lid. When water comes to a rolling boil over the jars, time for 20 minutes. Lift out rack.
and place jars carefully on towelled counter out of drafts. When you hear the "pop" the jars have sealed.
You may also turn them upside down and leave them. They will seal from the pressure also.
You may freeze the additional syrup in ice cups and add to lemonade or ice tea.