"This recipe is all made with full measurements. No halves or fourths to deal with so not only is it great tasting its also easy to remember."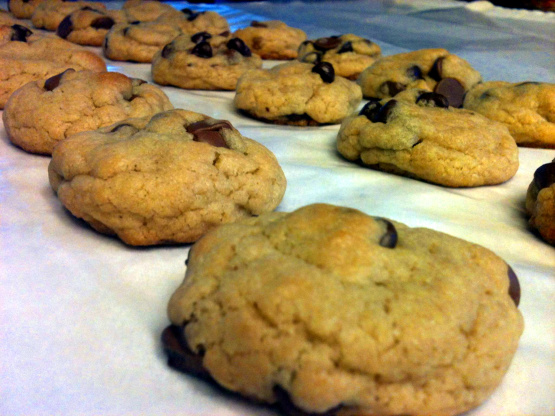 Can't Go Wrong Chocolate Chip Cookies
2 recipe photos
Directions
Preheat oven to 350 degrees.
In a medium mixing bowl combine the softened butter, brown sugar, 1 egg and vanilla. Blend with a whisk till the ingredients are a nice smooth rich brown.
In a large mixing bowl combine the flour, white sugar, baking soda and baking powder. Mix with a spoon.
Pour the wet mixture into the dry mixture and beat with a wooden spoon. Dough should be stiff and crumbly.
Lastly add the chocolate chips and the additional egg. With the wooden spoon continue to mix the ingredients till everything is the same consistency. If your dough is still too dry add 1 more egg.
On an ungreased baking sheet roll your cookies into 1 inch balls so you have 3 rows of 5 balls and bake for 8-10 minutes.
While your cookies are baking place a kitchen towel on the counter and cover it with a sheet of wax paper.
Transfer the hot cookies from the sheet to the paper. This will help prevent your cookies from sticking and getting your counters all greasy.
Cool for at least 5 minutes and enjoy. Best served warm with cold milk.