"Originally from Taste of Home, the only change I have made to this recipe is the name. It was originally named for a themed party and we don't always need a party to make it! We renamed it based on what everyone who tastes it always says...."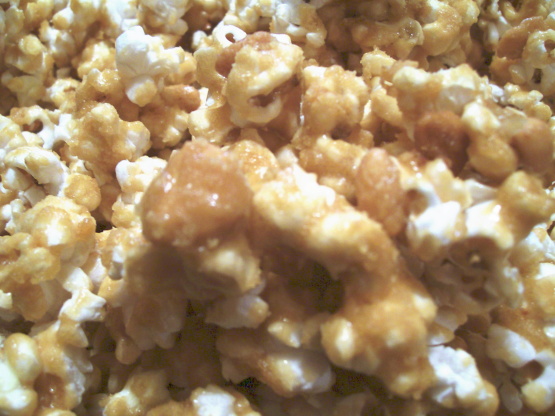 Can't Stop Eating It! Caramel Corn
1 recipe photo
Directions
Place popcorn (6 qts. = about 24 cups) in a large bowl and set aside. In a saucepan, combine brown sugar, butter, corn syrup and salt; bring to a boil over medium heat, stirring constantly.
Boil for 5 minutes, stirring occasionally.
Remove from the heat.
Stir in vanilla and baking soda; mix well. Pour over popcorn and stir until well-coated.
Pour into two greased 13-in. x 9-in.x 2-in baking pans.
Bake, uncovered, at 250 for 45 minutes,stirring every 15 minutes.
Cool completely. (I find it easier to remove from the pan and break up when it is still SLIGHTLY warm.)
Store in airtight container or plastic bags. Yield: about 5-1/2 quarts.