"Found this at recipe cottage tweeked of course. I always serve lamb with garlic and saw this and thought how yummy does this sound! Sweet and spicy!"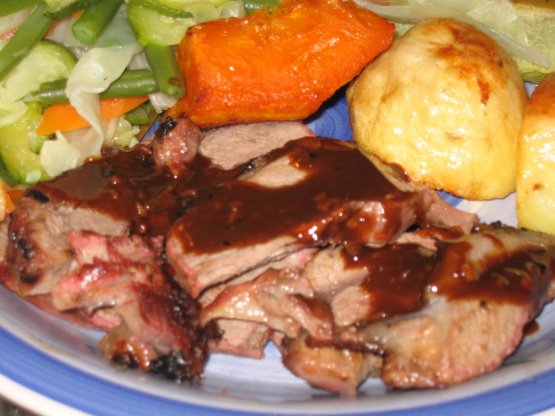 Capetown Lamb (South Africa)
6 recipe photos
READY IN:

2hrs 15mins

SERVES:

12

UNITS:

US
Directions
Using the tip of a sharp paring knife, make slits about an inch deep all over the surface of the lamb, spacing them about an inch apart.
Insert a sliver each of garlic and ginger into each slit.
Place the lamb in a non-reactive roasting pan and set aside while you prepare the Marinade.
Combine the Worcestershire sauce, soy sauce, sugar, both the mustards, lemon juice, oil, garlic, ginger, scallions, red pepper flakes,coriander, and cumin seeds in a small, heavy saucepan and bring to a boil over medium heat, stirring to dissolve.
the sugar. Cook until thick and syrupy, about 3 minutes, stirring.
frequently to prevent sticking. Remove from the heat and taste for seasoning, adding salt and pepper as necessary. Let cool to.
room temperature.
Pour half the cooled marinade over the lamb in the roasting pan, brushing to coat on all sides. Cover and let marinate, in the.
refrigerator, for 3 to 8 hours.
Set up the grill for indirect grilling (check in the grilling forum about inderect heat). placing a large drip pan in the center, and preheat to medium.
When ready to cook, place the lamb on the hot grate over the drip.
pan and brush with more glaze. Cover the grill and cook the lamb.
until done to taste, 2 to 2 1/2 hours; an instant-read meat.
thermometer inserted in the thickest part of the leg (but not.
touching the bone) will register 16Q`F for medium. Brush the leg.
with glaze two or three times during cooking. If using a charcoal.
grill, add 10 to 12 fresh coals per side every hour.
Transfer the lamb to a cutting board and brush one last time with marinade, then let stand far 10 minutes before carving. While the lamb stands, heat any remaining marinade to serve as a sauce with the lamb.