Want more from Genius Kitchen?
Watch on your Apple TV, Roku, or Fire TV and your iOS, Fire, or Android device.
Learn More
"This Sicilian vegetable dish is far more than any of its components. To call it an eggplant dish is to simplify its complexity. It is a Sicilian dish that has conquered the entire Italian peninsula. On family trips to Italy, we found it being served practically everywhere; however it is typically a Sicilian treat, steeped in Sicilian history and culture. It utilizes a sweet and sour flavor that was said to be introduced to the island by its Arab rulers in the 900's AD. Agrodolce or sweet and sour sauces are not typically found as part of Italian cuisine, but the agrodolce flavor of caponata is now well known. My mother was known for her caponatina as it was called in our home. Mom's caponatina was so good that she was often asked to prepare it for others. I can only guess as to how caponatina became known as caponata. I believe it was known as caponatina throughout most of Sicily, and lost the diminutive INA meaning "small bits" when the dish was later popularized throughout the peninsula. Although my mother lovingly prepared this dish in her kitchen often right in front of my eyes, I did not have the insight to preserve the recipe. I regret this; however, I do know the list of ingredients and their cooking method, but lack the amounts. This recipe was compiled by me from memory and tested using other recipes for the missing quantities. I believe I have found Mom's secret and would like to share it. I hope you enjoy it as much as my family does."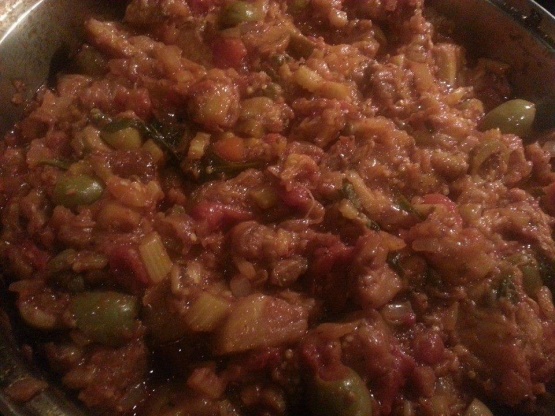 Caponata (Caponatina)
1 recipe photo
READY IN:

2hrs

SERVES:

8

UNITS:

US
1⁄3 cup salt (coarse is best)

1

cup canola oil
1 1⁄2 lbs celery, peeled to remove tough strings
1⁄4 cup capers, washed in cold water to remove brine
1⁄2

cup virgin olive oil

1

large sweet onion, finely chopped
1 1⁄2

cups marinara sauce (your own is better)

4 -6

plum tomatoes, blanched and peeled. Optional ingredient, but recommended (See blanching instructions bellow)

4 -6

large basil leaves, cut into pieces

1

cup large mediterranean green olives, pitted and cut in half
1⁄4 cup red wine vinegar

2

tablespoons sugar
Directions
Begin by cutting the peeled eggplants in half, length wise. With a spoon, scrape out the bulk of the seeds, if the eggplant is too seedy – these only tend to bitter the eggplant; be careful not to take too much of the eggplant off. Cut the halves into ½ inch slices, salt both sides with coarse salt and place the slices into a colander to drain for approximately 1 ½ to 2 hours (the longer the better). You can place a heavy pan on top to quicken the draining. After draining, wash the slices in cold water and pat each slice thoroughly dry. You can omit this salting step, but the drained eggplant is of much better quality for frying and salting and draining is highly recommended.
Cut the eggplant slices into ½ inch to ¾ inch cubes and set aside.
To blanch the Roma or plum tomatoes, boil water in a small open pot. Remove from heat. Carefully score the top of each tomato with an X and drop a tomato or two in the hot water. With a spoon, push the tomatoes under the hot water for 15-30 seconds. Remove and place the tomatoes in a bowl of ice water and let sit. When all the tomatoes have been blanched and are resting in ice water, the skins should begin to peel back. Proceed to peel the skin from the tomatoes, starting at the top where the tomato was scored. Peel with a small paring knife. Place all the peeled tomatoes in a bowl, cut into chunks and set aside.
Cut the peeled celery ribs into strips and chop into ½ inch pieces. Blanch the celery pieces in boiling water for 2-3 minutes and drain. Sauté the celery pieces in a few tablespoons of olive oil, drain and set aside.
In a large skillet, place enough canola oil to cover the pan's bottom ¼ inch deep. Heat the oil, and place the well drained eggplant pieces one layer deep into the pan and fry until soft. Remove from pan and drain on paper towels to remove excess oil. Repeat until all the eggplant is fried and drained.
In a pan large enough to hold all your ingredients, sauté the onions in a few tablespoons of olive oil until they are translucent, being careful not to brown them. Next add the capers, the the green pitted olives and the 1 and 1/2 cups of the marinara sauce, the Roma or plum tomatoes (optional) and continue to cook over low heat for 15-30 minutes until the mixture reduces and thickens and the Roma tomato chunks are cooked into the mixture, but still distinguishable. Stir the mixture from time to time to prevent sticking. You will need to use your judgment to determine the doneness of the mixture, but do not overcook, a little less is better. The mixture should not be dry.
NOTE: You may also use one 28oz. can of whole plum shaped tomatoes, well drained, seeded and cut into medium size pieces in place of the Roma plum tomatoes above.
Add the fried eggplant pieces, the sautéed celery pieces and chopped basil to the tomato mixture and continue to cook over low heat for several minutes, stirring the mixture to prevent the mixture from sticking. Do not overcook and let the mixture become too dry. It is best if it is thick and loose.
When the tomato mixture appears to be absorbed into the eggplant, add the wine vinegar, stirring the hot mixture continually. A word to the wise, stand away from the pan when adding the wine vinegar to the hot mixture to prevent inhaling the vinegar vapor. Add the sugar, a bit at a time, stirring between additions to speed absorption.
NOTE: I have found it best to add half the wine vinegar and the sugar. Taste to assure the correct degree of sweetness and sourness before continuing with either of these two ingredients. This is a matter of personal taste. Salt and pepper may be added to taste at this point also, but remember that several of the ingredients were soaked in brine, so be careful with the salt!
Cool the caponata well before serving. The caponata may be placed into a container and refrigerated. This is one of those dishes that ages well and the taste even improves over time. It will keep for several days in a refrigerator; just stir the mixture well from time to time. I recommend cooking this dish in advance to take full advantage of these qualities. An added tip: this dish also freezes well, just place in an appropriate container and freeze, let thaw and stir before serving. Remember to always serve at room temperature.
Caponata can be served as an antipasto or appetizer. It is delicious served on bruschetta or with pieces of crusty Italian bread. There should be enough to serve at least 8.
get the genius kitchen app.
Watch on your iPhone, iPad, Apple TV, Android, Roku, or Fire TV.
Learn More