"This is a variation of a popular Russian food, perfect for buffets, finger eating, and after-school snacks. Filling and dough are very forgiving and refrigerate well for preparation later once the guests arrive. Optional ingredients according to different tastes could include celery, grated carrots, bell peppers. It's a healthy choice hitting all the food groups and appealing to even fussy eaters. This is for a large batch of about 55 piroshkis."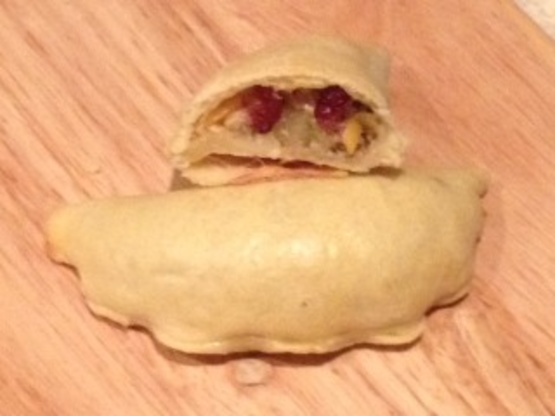 Captain Steve's Piroshki
3 recipe photos
Directions
Preheat oven to 350°F.
Brown onion and meat in olive oil.
Add spices to taste (basil, poultry season, salt, pepper).
Set meat mixture aside and allow to cool.
Core, peel and dice apple in small bowl; add cinnamon and sugar; let set.
Add cranberries and apple mixture to meat and set aside.
Mix dry ingredients; cut in butter.
Lightly beat eggs in separate bowl, fold in sour cream and mix well.
Add egg mixture to dry ingredients.
Knead dough until smooth consistency.
Roll handful of dough on lightly floured surface to 1/8 inch.
Use 4-inch cutter (circle cookie cutters or bowl).
Place tablespoon of filling on 1/2 of 4-inch dough patty, top with 1/2 tablespoon cheese.
Fold dough in half, pinch seams closed.
Whisk raw egg with splash of water and brush top of piroshki for a shine (optional).
Bake on lightly oiled and floured cookie sheet for 25 minutes at 350°F.